Homemade McGriddles: All the Pancake-Wrapped Sandwich, None of the Shame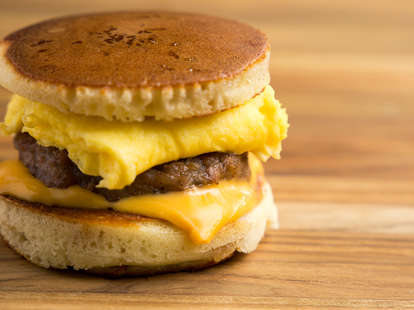 Perry Santanachote/Thrillist
I'm sure you think your basic sausage, egg, and cheese is great, but does it have crunchy maple crystals in it? I'm guessing no. Oh, and is yours sandwiched between two pancakes? I didn't think so. This one is. And it's about to completely change your breakfast. We have McDonald's McGriddles to thank for the inspiration, but this homemade execution goes above and beyond what the fast-food assembly line churns out.
McGriddle Sausage Sandwich Recipe
Total Time: 45 minutes
Yield: 6
INGREDIENTS:
½ cup maple syrup
1 cup Bisquick mix
½ cup milk
1 large egg
1 tablespoon vegetable oil
1 tablespoon sugar
1 teaspoon baking powder
6 eggs, scrambled
6 cooked pork sausage patties
6 slices American cheese
DIRECTIONS:
Line a small baking pan with parchment paper and stick it in the freezer.
Pour syrup into a small pot and put over medium heat. Bring to a simmer, stirring constantly. Cook it until it gets dark, thick, and almost looks "whipped," about 10 minutes. Once it emits a caramel-y smell, remove it from heat. Pour the syrup into the chilled pan and let it cool and harden completely.
Using a rolling pin or the handle of a large spoon, smash the cooled syrup into small shards; set aside.
In a large bowl, whisk together Bisquick, milk, egg, oil, sugar, and baking powder.
Preheat a griddle or large nonstick skillet over medium heat. If using pancake molds (I used 3-inch molds), grease the insides with cooking spray and place on the griddle. Pour 1 tablespoon of batter into each mold, sprinkle 1 teaspoon of maple crystals evenly over the pancakes, and pour 1 tablespoon of batter on top. Cook until the edges look dry and bubbles burst on top, leaving tiny craters. Remove the rings with tongs and flip the cakes. Cook for another 1 to 2 minutes until done. Repeat until you have 12 pancakes.
Top half of the pancakes with cheese, sausage, and scrambled eggs. Finish them off with the remaining pancakes.
Sign up here for our daily Thrillist email, and get your fix of the best in food/drink/fun.