3 Mexican Cocktail Recipes for a Legit Cinco de Mayo Celebration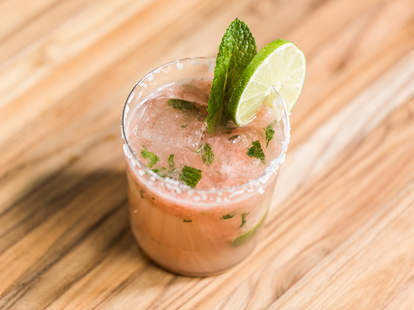 These cocktail recipes from Dos Caminos' Chef Ivy Stark would make for a Cinco de Mayo celebration to remember... if you were going to remember anything after all that tequila. Which you are not. Stark's hangover cure, the Vuelve la Vida, will at least help you piece things back together the next day. 
Drew Swantak/Thrillist
Ponche Tropicale
The punch bowl and fruit are incredibly deceptive, but this isn't the drink your grandmother made you serve at her 90th birthday party. Unless your grandmother spikes her punch with three bottles of tequila. 
See the full recipe here...
 
Drew Swantak/Thrillist
Vuelve la Vida
"Vuelve à la vida" literally translates to "return to life" in English. While the hangover cure can't literally resuscitate a corpse, its potent combination of seafood, tomato juice, citrus, and chiles has the power to enliven even the crunkest of crunks. I'm pretty sure it works on zombies, too.
See the full recipe here...
Drew Swantak/Thrillist
La Paloma
The Paloma is Stark's favorite Mexican cocktail and one made the right way -- with fruit muddled in the glass with the tequila, and the soda served on the side -- is very hard to find. Luckily, making your own is easy.
See the full recipe here...