Mexican Hot Chocolate With Mezcal Is the Boozy Winter Drink You've Needed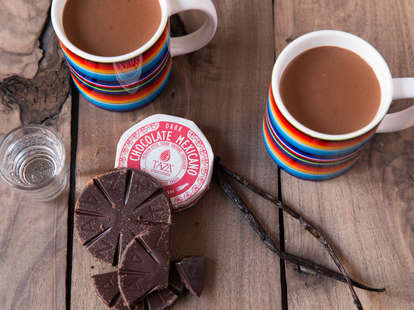 Drew Swantak/Thrillist
Drew Swantak/Thrillist
Hot chocolate is such an important beverage in Mexico that it gets its own meal. The traditional first of two breakfasts, Mexican cocoa is different from the powdered cocoa packets you grew up stealing from your church's basement. "The addition of corn flour makes it more nourishing, so you'll last until the heartier second breakfast at 10am or so," says Dos Caminos chef Ivy Stark. "The cocoa beans are toasted and ground with flavorings like sugar or cinnamon. I also like to add ancho chile."
During the holidays, Mexicans serve hot chocolate with tamales, which we insist on doing even though the holidays are over. This is also the proper time to spike it with mezcal (not as traditionally appropriate during first breakfast).
Dos Caminos is serving complimentary hot chocolate to diners throughout the winter season, so go get some. Or you could just drink another cup at home while you're skipping church to watch The Snorks.
Mexican Hot Chocolate Recipe
Total Time: 25 minutes
Yield: 8 cups
INGREDIENTS:
1/4 cup white Maseca (corn flour)
5 cups whole milk
1 cup heavy whipping cream
3/4 cup granulated sugar
1 tablespoon ancho chile powder (optional)
1 teaspoon vanilla paste
1/4 teaspoon ground cinnamon
11 ounces (4 Taza discs) Mexican chocolate, broken into chunks
3 ½ ounces (1/2 cup) semi-sweet chocolate chips
8 ounces mezcal
2 cups heavy whipping cream
1/4 cup confectioner's sugar
2 tablespoons mezcal
1 teaspoon vanilla extract
DIRECTIONS:
Combine Maseca with 1/2 cup water and whisk until smooth. Set aside.
Combine milk, cream, 1 ½ cups water, sugar, ancho chile, vanilla, and cinnamon in a large pot. Bring to a boil over medium heat. Turn off heat and add both chocolates. Whisk until mixture is smooth. Add the Maseca mixture and whisk until combined. Return the heat to medium. Whisk constantly until the mixture thickens, about 2 minutes. Remove from heat.
Make whipped cream by combining all ingredients in a large mixing bowl and whisking until soft peaks form.
Just before serving, stir mezcal into the hot chocolate.
Pour hot chocolate into individual mugs and top with generous heaps of whipped cream.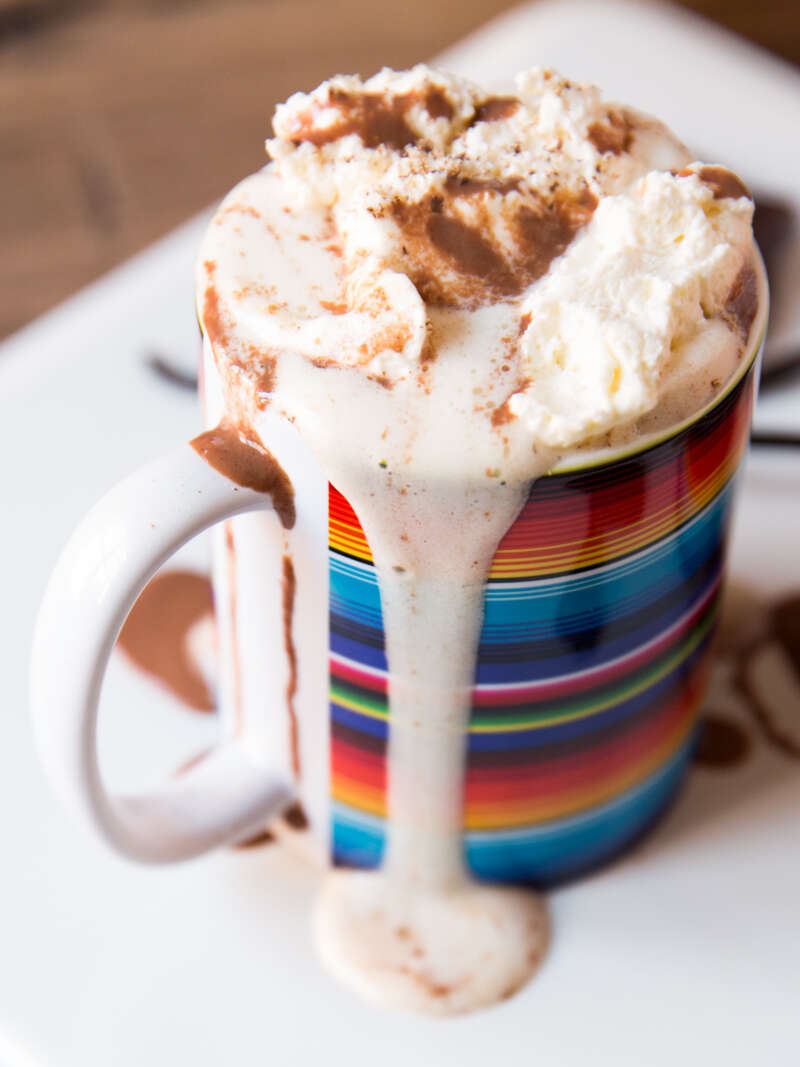 Sign up here for our daily Thrillist email, and get your fix of the best in food/drink/fun.