How to Make Homemade Mac 'n' Cheese in a Mug, in 6 Minutes
When a food craving hits, I've got about 10 minutes to satisfy it before I turn into a raging bitch. It's the reason I'm such an angry baker. And probably why my cupcakes look so ugly. On good days, though, my cravings aren't for sweets, but for something salty and fattening, like mac 'n' cheese. They say "necessity is the mother of invention," which was definitely the case when I successfully made mac 'n' cheese in the microwave out of desperation.
Six minutes is all it takes -- and it tastes exactly the same as the stovetop stuff. Plus, there are no pots to clean, which is why this should be the only way to cook mac 'n' cheese. Ever.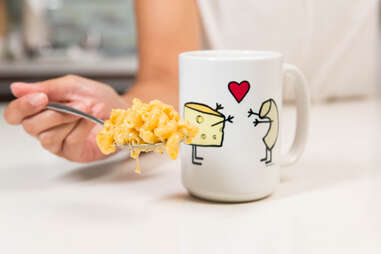 Microwave Mac 'n' Cheese in a Mug Recipe
Total Time: 6 minutes
Yield: 1 serving
INGREDIENTS:
1/3 cup elbow macaroni noodles
2 tablespoons milk
1 tablespoon unsalted butter
1/2 cup shredded sharp cheddar cheese
1/4 teaspoon kosher salt
1/8 teaspoon ground mustard
Sprinkle of cayenne pepper (or more to taste)
Freshly ground black pepper to taste
DIRECTIONS:
Put pasta and 1/3 cup of water into a 15-ounce mug (or larger). Place the mug on a large plate to catch any overflow and microwave on high for 2 minutes. Stir well and microwave for another 2 minutes.
Carefully remove mug from microwave with oven mitts or a dish towel. Noodles should be nearly cooked at this point and most of the liquid should be absorbed/evaporated. Stir again, add milk and butter, and nuke for 1 ½ minutes. Add cheese, salt, mustard, and cayenne; mix well. Microwave for 30 seconds to melt the cheese; stir again.
Finish with pepper and eat immediately.