5 Staggering New Takes on the Pulled Pork Sandwich
Anthony Humphreys/Thrillist
Anthony Humphreys/Thrillist
When it comes to sandwiches, the pulled pork sandwich is king. It's pork. It's pulled. It's delicious. But sometimes kings need to expand their kingdoms. To do that, we enlisted BBQ master and Duck's Eatery owner and chef Will Horowitz to come up with five original takes on the classic. We've included his recipes below, so you can attempt them on your own. Wet naps not included.

And if you don't know how to turn good old pork butt into sumptuous pulled pork, Will's provided a simple and savory recipe here.
Smoked pulled pork sandwich with rosemary oil, roasted northern spy apples, Benton's bacon and a shaved brussel sprout salad

Yield: Serves 4 people
INGREDIENTS:
2 lbs. of smoked pulled pork butt
Long roll or ciabatta
½ cup of olive oil, unfiltered
1 bunch of rosemary
2 northern spy or similar heirloom apples
4 thick cut pieces of Benton's or similar smoked bacon
¼ cup sparkling apple cider vinegar
½ tbsp. maple syrup
2/3 tbsp. kosher salt
1 tbsp. roasted garlic, chopped
2 tbsp. thyme, fresh and picked
3 shallots, peeled and thinly sliced
1 lbs. Brussels sprouts
DIRECTIONS:
Place fresh rosemary in smoker and smoke between 180-200 degrees for 2 hours with heavy smoke. After, place rosemary into oil. Bring oil to simmer, then cool down and allow to sit with rosemary still submerged overnight.
Remove core from apple and slice into small wedges. Toss apple and shallots lightly in one tbsp. of rosemary oil and roast in oven at 400 degrees until golden brown. Cool down and reserve.
Peel Brussels sprouts away from stem. Place leaves in metal bowl and pour over vinegar, maple syrup and salt. Mix vigorously then fold in roasted apple, thyme and shallots.
On cast iron, cook bacon until golden brown. Drain, pouring hot grease over mixed Brussels sprout salad.
Toss hot pulled pork in rosemary oil, straining out any excess rosemary and roasted garlic. Slice open bread, but so it's still attached and toast. On each roll place evenly generous amount of pork then bacon and finally Brussels sprout slaw. Then devour!
Dark maple smoked pulled pork sandwich with barley miso crème and a pickled rocky point oyster, red cabbage, shiso, and wild mushroom slaw

Yield: Serves 4 people
INGREDIENTS:
2 lbs. of smoked pulled pork butt
Large Martin's potato rolls
2 tbsp. dark amber maple syrup
½ tbsp. barley miso paste
3 tbsp. crème fraiche
2 tsp. soy sauce
½ cup julienned red cabbage
½ cup julienned large or winter shitake mushrooms
½ tbsp. togarashi
2 tsp. kosher salt
2 tbsp. julienned green shiso leaves, fresh
10 rocky point oysters, shucked and chopped
2 tbsp. rice vinegar
DIRECTIONS:
Mix together, red cabbage, mushrooms, oysters, togarashi, shiso, salt, and rice vinegar. In a medium bowl mix together well and let sit for 24 to 48 hrs.
In, a separate small bowl, gently mix together barley miso, crème fraiche and soy until smooth.
Before, serving toss pulled pork in maple and season. Toast bun, spreading miso crème generously on both sides and after place on pork evenly followed by cabbage & mushroom slaw then top bun before being ready to eat!
No matter how creative you get with the pulled pork sandwich, there's always one thing you need. So when you finally stop drooling on your keyboard, grab a Smithfield pork butt.
Hot smoked pulled pork sandwich smothered in yucateca gravy with grilled pineapple, chicharron & fresh cilantro

Yield: Serves 4 people
INGREDIENTS:
2 lbs. smoked pork butt, pulled
4 large Martin's potato buns
1 bunch fresh cilantro, cleaned
2 dried ancho chilies
4 dried guajillo chilies
4 slices of fresh pineapple, round ½" thick
8 cloves of garlic, roasted
2 large heirloom tomatoes, quartered & roasted
1 small Spanish yellow onion, quartered
4 large shitake mushrooms, cleaned & halved
½ cup white wine, dry
½ tbsp. of canola or similar high heat oil
¼ cup of heavy cream
¼ lbs. of fried pork skin (chicharon)
DIRECTIONS:
Remove woody stem of dried chilies and soak chilies in warm water for 20-30 minutes, using just enough water to keep them submerged. Using a medium cast iron pan, place on stovetop and heat to medium without adding anything. Remove chilies from water and allow to dry on paper towel. After, place chilies on hot pan, and allow them to slowly cook and blacken gently moving them around with wooden spoon. The chilies will begin to look burnt and carbonized normally after about 20 minutes. Shortly after this, as they show signs of spontaneously lighting on fire, pull them off and reserve on a plate.
In the same hot pan add canola oil then onions and mushrooms. Sauté until evenly browned and then deglaze pan with white wine. Once white wine comes to a boil, pour with sautéed onions and mushrooms into food processor. Then add the charred chilies into the food processor along with roasted garlic, stems from the cilantro (reserve leaves to finish sandwich), and roasted tomatoes.  Blend mixture on high until smooth in consistency. Pour mixture, into small saucepan. Add cream, bring to simmer and season with salt to taste.
Heat the grill to medium high and prepare pineapple. Lightly, oil grill grate and gently place pineapple onto it. Grill until hot and left with significant char marks. Optionally, you can also place potato bread onto the grill and toast.
To finish, place even portions of the hot pre-made pulled pork onto the bottom of the bread, followed by a healthy ladle full of the spicy gravy, a slice of grilled pineapple, a generous amount of cilantro leaves, place the top bun and enjoy!
Smoked & deep fried pulled pork and smoked Gouda sandwich with fire-roasted poblano chilies, caramelized onions, pickled fennel and curly parsley

Yield: Serves 4 people
INGREDIENTS:
2 lbs. smoked and pulled pork butt
4 martin's potato buns
8 oz. of smoked Gouda, grated
2 medium yellow Spanish onions, peeled & sliced
3 poblano chilies, fresh
1 bunch of curly parsley, cleaned & picked
1 small fennel bulb, julienne reserving frons
½ cup white vinegar
¾ cup water
1 tbsp. kosher salt
2/3 tbsp. white sugar
½ tbsp. Duke's Mayo
2 eggs, cracked & whisked together
½ cup white flour
1 cup panko
3 cups of canola oil
DIRECTIONS:
In a small saucepot add sugar, salt, vinegar and a ½ cup of water. Bring to simmer and whisk until diluted, then take off heat and cool down. Add, julienned fennel and allow to sit and pickle submerged over night at minimum.
Over charcoal grill or gas burners char poblano peppers until blackened. Cool down; remove tops and inside seeds, and pith. Julienne pepper and reserve to the side. In a sauté pan, add 1 tbsp. of oil and turn to medium heat. Once hot, add sliced onions, lightly season with salt and sauté until golden brown. Remove from heat and reserve to the side.
Cool pulled pork to room temp and form into four equal hamburger shaped patties. Take grated cheese and place even amount in center of each patty. Bring sides of each patty up around cheese, and roll into meatball shape covering cheese completely.
Take out three medium size bowls. In the first, add flour and ½ tbsp. of salt; in the second blend together egg mixture with 1 tbsp. of water; and in the third add breadcrumbs. Heat up canola oil in sauce pot to 350 degrees. In two batches, places meatballs into each mixture covering completely. First, flour then egg and then breadcrumb. After, submerge into hot oil and gently move around so it cooks evenly. Once golden brown, take out of the oil and place on paper towel to drain. Lightly season with salt.
To finish, warm buns and slather both sides with Dukes mayo, place first fried pork ball and cover with caramelized onions, and peppers. Mix together pickled fennel with frons and parsley then place mixture on top. Skewer top bun on to stay in place, and serve!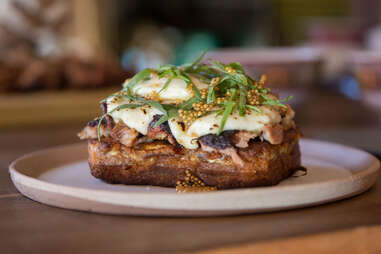 Pulled pork French toast sandwich smothered in a Taleggio Mornay sauce and topped with a fried duck egg, candied mustard seed marmalade & fresh tarragon

Yield: Serves 4 people
INGREDIENTS:
2 lbs. pulled smoked pork butt
4 ½" slices of challah bread
1 bunch of tarragon, cleaned and picked
1 tbsp. of mustard seeds
½ cup of water
1/3 cup of white sugar
4 fresh duck eggs
4 chicken eggs
2 ½ tbsp. unsalted butter
2 tbsp. clarified butter
3 tbsp. of canola oil
1 cup of heavy cream
2 tbsp. AP flour
1 ½ cup milk, whole
Freshly ground white pepper
1/4 cup Taleggio, chopped
1 tsp. shaved nutmeg
1 tsp. cayenne
DIRECTIONS:
Whisk together chicken eggs, milk and 2 tsp. of salt. Soak bread in mixture for ten minutes on each side. In large sauté pan, heat 1 ½ tbsp. of butter and 1 ½ tbsp. of oil to medium high heat. Place two pieces of soaked bread on pan and after 3-4 minutes flip to other side so that both sides are golden brown. Place on side and keep warm. Wipe down pan and heat up same amounts of butter and oil then repeat cooking process with last two pieces of soaked bread.
Place mustard seeds in a small pot with water and sugar and bring up to boil. Boil and reduce until mixture becomes thick syrup and takes on an almost jam-like consistency. Season with salt and place aside.
In small sauce pot, heat butter and carefully whisk in all-purpose flour. Mixture should resemble wet sand. Over medium low heat keep mixture moving until color begins to darken to lightly brown or tan color with a slight smell of toasted nuts. Bring milk to room temp. and very slowly whisk milk into roux -- keeping the mixture smooth. Once blended together, bring up to a simmer being careful not to burn the bottom. Turn off heat and add in cheese. Whisk continuously to emulsify the cheese into mixture carefully and smoothly; season with salt and white pepper.
Take remaining butter and heat in medium sauté pan, and use it to fry each duck egg until whites are fully cooked and yolk is still soft. Sprinkle with salt.
Place smoked pulled pork evenly on each French toast. After, generously pour over Taleggio Mornay sauce. Finish by topping with fried duck eggs, sprinkle over mustard seed mixture, and pickled tarragon. Lastly, dust each with a pinch of ground nutmeg and cayenne, and just try to wait for everyone to get their napkins in their laps before digging in.