Though classic nachos are indisputably excellent to split with a bunch of people, sometimes you just don't want to be forced to battle with friends over that one perfectly layered chip.
On-the-go nachos are best made right in the chip bag -- I made mine with Doritos for that extra layer of cheese, and topped them with queso, salsa, and all the necessary rest. They're great for just you, but also perfect for individuals to customize, should you want to share the experience.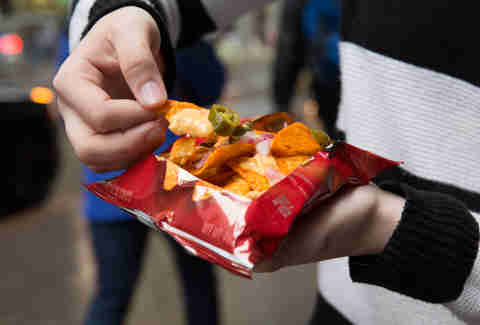 Personal Doritos nachos recipe
Ingredients:
8 (1oz) bags Nacho Cheese Doritos
2 cups queso (jarred or homemade), warmed up
1 cup salsa or pico de gallo
1 cup sour cream
½ cup chopped red onion
½ cup pickled jalapeños
Directions:
Cut an opening on the front of each Doritos bag, making them into rimmed plates.
Top each bag of chips with ¼ cup of queso, 2 tablespoons salsa, 2 tablespoons sour cream, 1 tablespoon red onion, and 1 tablespoon jalapeños.
Sign up here for our daily Thrillist email, and get your fix of the best in food/drink/fun.
Perry Santanachote is Thrillist's Recipes Editor. She highly advises against making nachos with Cool Ranch Doritos. You've been warned. Follow her @perrysant.