10 of the Cheesiest Recipes We've Ever Seen
Cheese is one of the most addictive foods out there. Its tangy flavor is transformative, its velvety texture brings people to their knees! If there was a Cheeseaholics Anonymous, I would surely qualify for the program. But it doesn't, and quite honestly, I wouldn't want to join anyway.
These recipes -- which feature 10 magnificent ways you can cook and consume cheese -- are calling and their pull is too strong to resist. Indulge with me.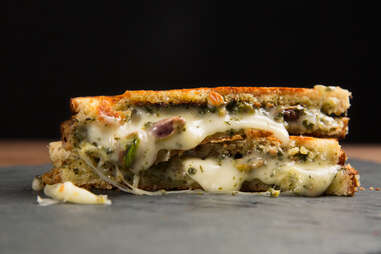 Taleggio can really melt! Complete it with herby pesto and crunchy pistachios. Find the recipe here.
Key ingredients:
Bread
Taleggio cheese
Pistachios
Pesto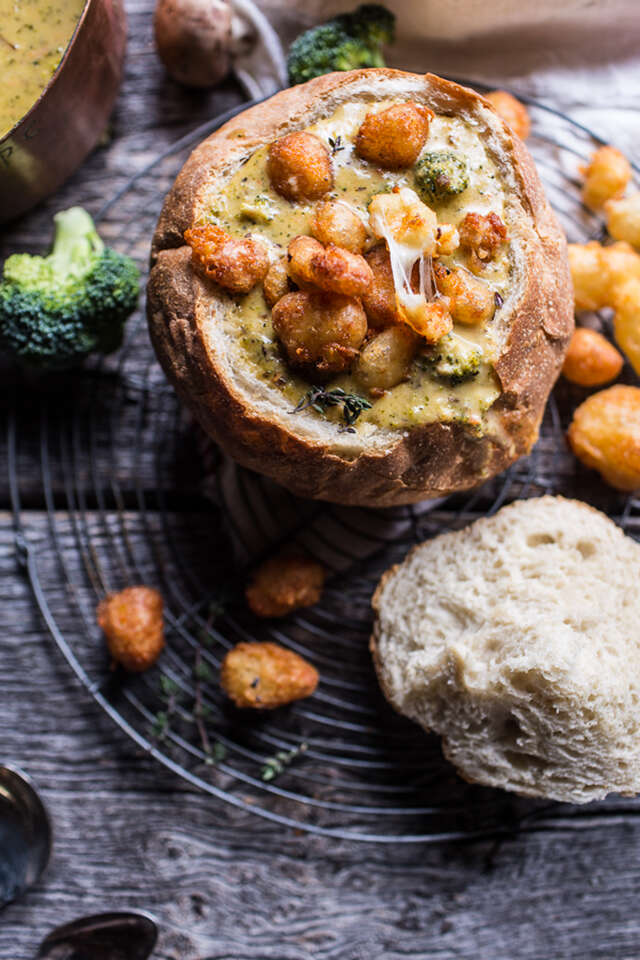 Cheese soup not cheesy enough for you? Top it off with fried cheese curds. Find the recipe here.
Key ingredients:
Milk
Broth
Sharp cheddar
Pumpkin beer
Cheese curds
Youse want dat wit Whiz or provolone? Too bad, you're getting both. Get the recipe here.
Key ingredients:
Mushrooms
Lasagna noodles
Roast beef
Sharp provolone
Cheez Whiz
Few things are cheesier than a creamy queso. Recipe here.
Key ingredients:
Cream cheese, at room temperature
Monterey Jack cheese
Extra-sharp cheddar cheese
Diced tomatoes
Green chiles
Throw the cheese right onto the batter in the iron. It'll melt up as the batter cooks. Steps right here.
Key ingredients:
Pillsbury Grands! biscuits
Pizza sauce
Provolone cheese
Pepperoni
Best served with something rich and buttery like Ritz crackers to cut the tang of the goat cheese. The recipe is here.
Key ingredients:
Bacon
Pecans
Cream cheese
Cheddar cheese
Goat cheese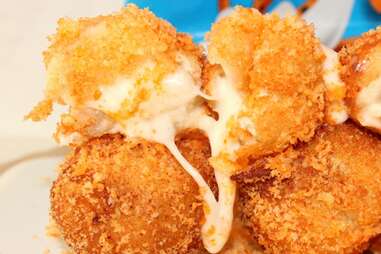 Buttery puffed dough is filled with melted cheese and coated with bright-orange Cheetos crumbs. Get the recipe here.
Key ingredients:
Pillsbury biscuits
Cheetos
Mozzarella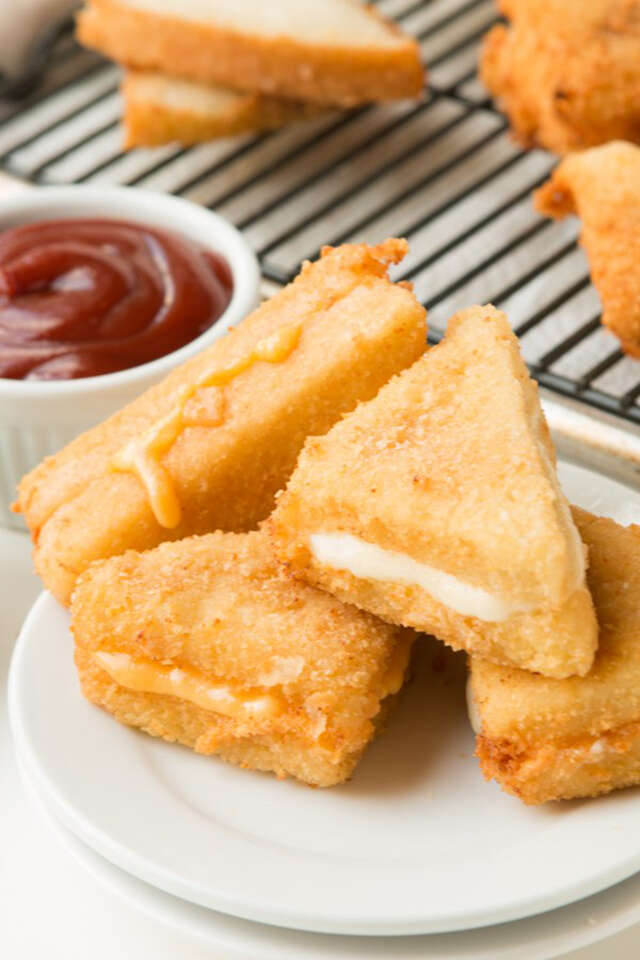 These fried cheese sandwiches are called Frenchees in certain regions of the country, and they're a Ritz Bits fan's wet dream. Each grilled cheese gets a generous coating of crushed crackers before it's fried. Get the recipe here.
Key ingredients:
Sandwich bread
American cheese
Mayonnaise
Ritz crackers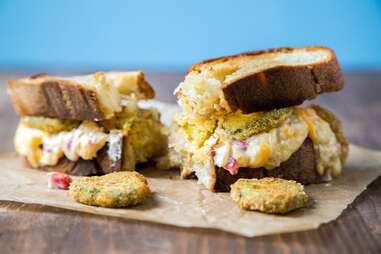 Pimento cheese plus fried pickles? Yup.
Key ingredients:
Pimentos
Aged cheddar cheese
Sharp cheddar cheese
Thick bread
Fried pickles
A cheese pizza that's anything but plain. Recipe here.
Key ingredients:
Pizza dough
Mozzarella
Parmesan
Brie
Ricotta

Sign up here for our daily Thrillist email, and get your fix of the best in food/drink/fun.
Perry Santanachote is Thrillist's recipes editor and is a cheeseaholic. Follow her at @perrysant.