This pizza pot pie has another pizza on top of it, of course
Drew Swantak
Drew Swantak
Chicken, you're out. The pizza pot pie is here.
Since sharing is for easily misled kindergartners, we've worked up a recipe for individual pizza pot pies stuffed with spicy sausage, peppers, onions, and abundant mozzarella. And on top? Another pizza. We couldn't think of a better way to top off the saucy, cheesy, meaty filling than with an adorably edible pepperoni pizza. Scroll down to see exactly how to make this hyper-caloric flavor barrage.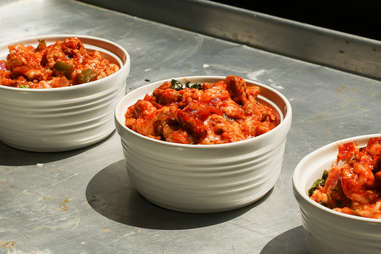 Pizza Pot Pie Recipe

Yield: 4 pot pies
INGREDIENTS:
1 pound spicy Italian sausage, removed from casings
½ cup chopped red onion
½ cup chopped green bell pepper
1¼ cups pizza sauce, divided
2 cups shredded mozzarella
2 tablespoons chopped fresh basil
4 (8-ounce) ramekins
1 tube Pillsbury Grands! Flaky Layers Original Biscuits
¼ cup grated Parmesan cheese
½ teaspoon dried oregano
12 small pepperoni slices
1 egg + 1 tablespoon water, whisked together
DIRECTIONS:
Heat oven to 375ºF.
In a large skillet over medium heat, cook sausage, onion, and bell pepper, breaking up the sausage with a wooden spoon, until sausage is browned, about 5 minutes. Stir in 1 cup pizza sauce and reduce heat to low; simmer uncovered for 3 minutes. Turn off heat and stir in mozzarella and basil. Divide sausage mixture among ramekins.
With a rolling pin or your hands, smash 2 biscuit disks together and spread the dough out until it's 1 inch wider in diameter than a ramekin. Place it over a ramekin, covering the filling, and press down along the edges to seal. Gently fold the overhanging dough back up to form a raised edge.
Spread 1 tablespoon of remaining pizza sauce on the pizza, avoiding the edge, and top with Parmesan cheese, oregano, and pepperoni. Cut a couple small vent holes in the middle for steam to escape. Brush just the edge with egg wash. Repeat with remaining dough and ramekins. Place them on a baking sheet and bake until golden brown, about 12-15 minutes.