The pizza roll/cinnamon bun love child
So pizza roll and cinnamon bun go out one night, and pizza roll is like, "Hey, wanna come back to my place?", and cinnamon bun is all, "Do you even have a place? You're a pizza roll, how can you afford to live in this city?", and pizza roll is like "dammit."
But they got busy anyway! And created the most beautiful (and scrumptious) love child you can imagine. The little guy combines a cinnamon bun's fluffy, swirly look and a pizza roll's savory pepperoni flavor, but has a style all his own, which includes lots of garlic butter and tangy cheese "icing".
Our Editorial Director normally brings back all the food from our shoots, and shares them with the edit team. This is the first time he didn't. I caught him eating the leftovers for lunch every day for the next week. So, I'm taking that as a good sign.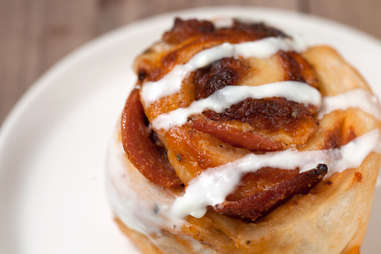 Pizza Rolls Recipe
Total Time: 1 hour
Yield: 9 rolls
INGREDIENTS:
Olive oil cooking spray
All-purpose flour
2 tablespoons margarine, softened
1 teaspoon garlic powder
1 pound pizza dough
1 teaspoon Italian seasoning
1/2 cup pizza sauce
4 ounces pepperoni slices
6 ounces shredded mozzarella
1/4 cup coarse-ground cornmeal
2 tablespoons cream cheese
2 tablespoons mascarpone cheese
2 tablespoons milk
DIRECTIONS:
Preheat oven to 350°F. Grease an 8" square cake pan with cooking spray and set aside.
Sprinkle flour on a clean work surface and roll out pizza dough with a rolling pin into a 18-by-12-inch rectangle with a long edge nearest you.
Mix the margarine and garlic powder together and spread evenly on top of the dough, leaving a 1-inch border along the top edge bare. Sprinkle with Italian seasoning. Spread pizza sauce evenly on top of the dough, again leaving the top edge bare. Top with pepperoni, then mozzarella.
Beginning with the long edge nearest you, roll the dough away from you into a tight cylinder. Pinch the seam to seal. Using a very sharp knife, cut the cylinder into 9 (2-inch-wide) slices.
Pour cornmeal into a shallow dish. Dip a swirly side of each roll into cornmeal and place them cornmeal-side down in the baking pan. Give each roll about 1 inch of breathing room on all sides.
Bake until tops are golden brown, about 30 minutes.
Remove from oven, spray the tops with a little olive oil, and let cool slightly while you make the icing.
In a small bowl, whisk together cream cheese, mascarpone, and milk until creamy and smooth. Drizzle over the rolls and serve immediately.