Kettle corn krispie treats: like Rice Krispies, but better with beer
As a kid, Rice Krispies Treats were the golden ticket of snack-time bartering: instead of a Willy Wonka factory tour, they opened all the other kids' lunch boxes. But for an adult take on the chief currency of third grade, substitute kettle corn for rice cereal. You still get the snap, crackle, and pop of the ones you loved when you were 6, but also savoriness, hearty texture, and just the right amount of salt to go great with an ice-cold beer.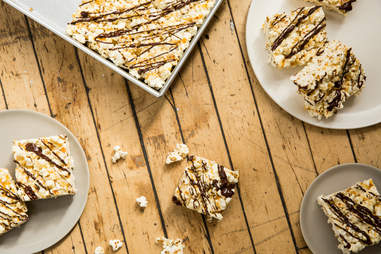 Drew Swantak
Kettle Corn Krispie Treats Recipe
Total Time: 45 minutes (including cooling time)
Yield: 12 bars
INGREDIENTS:
Cooking spray
4 tablespoons (1/2 stick) unsalted butter
1 (10-ounce) bag miniature marshmallows
Pinch of sea salt
1 (8-ounce) bag cooked kettle corn
Chocolate sauce and caramel sauce (optional)
DIRECTIONS:
Grease a silicone spatula and a 13x9-inch pan with cooking spray; set aside.
In a large glass bowl, microwave butter, marshmallows, and salt on high for 3 minutes, stirring halfway through. Or melt them in a pot on the stove over low heat.
Stir until smooth and combined. Add popcorn and mix until evenly coated. With the greased spatula, evenly spread mixture into pan. Let cool completely in pan, about 30 minutes.
Cut into 12 bars and drizzle with chocolate and caramel sauces.