The trouble with pork chops is too often they're half-heartedly tossed on a grill with very little seasoning, and end up overdone. Which is probably why no one can eat a classic American pork chop without a bucket of applesauce. Don't let this happen to you! These pork chop recipes -- some paired with summer's ripest fruits and freshest herbs -- are perfect for the season, but are definitely not limited to it, and use a variety of methods to make sure you never eat another dry chop again.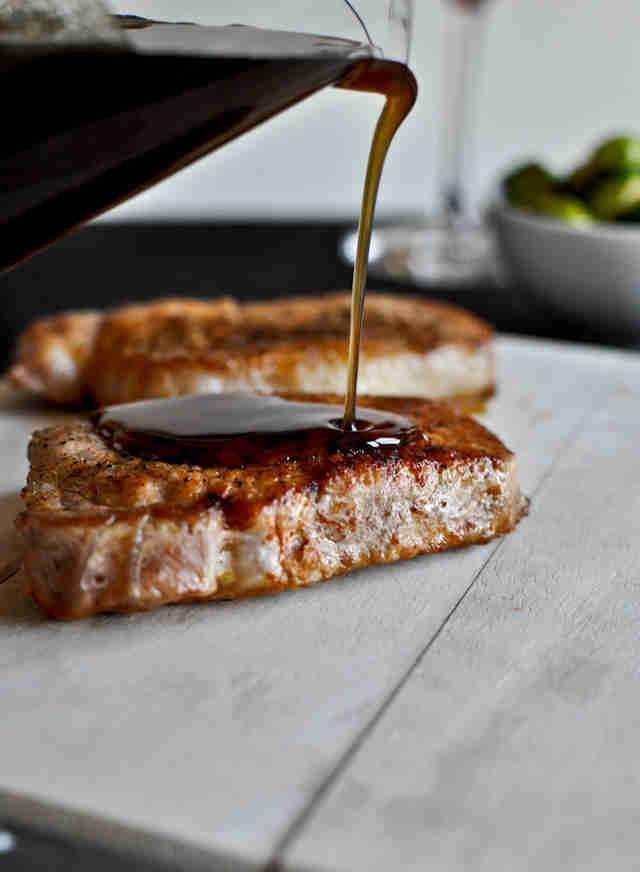 Maple and bourbon -- was there ever a better pairing? Make the match even more appealing as a glaze over pork chops for your next summer BBQ. Try it out here.
Key ingredients:
Bourbon
Maple syrup
Brown sugar
Paprika
Mustard
A buttermilk marinade makes these grilled pork chops unbelievably tender. Get the recipe here.
Key ingredients:
Buttermilk
Garlic spread and seasoning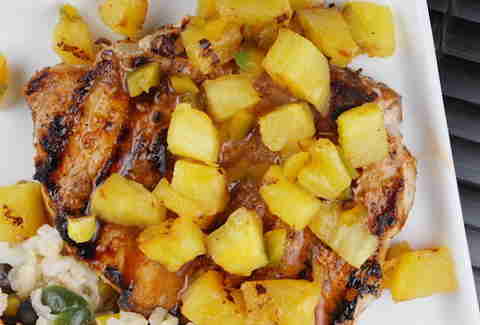 If pork is great on a grill, and pineapple is great on a grill, it only makes sense to combine the two, right? Pineapple salsa perfectly complements this charred and chili-rubbed pork chop. Recipe here!
Key ingredients:
Pineapple
Chili powder
Brown sugar
Jalapeño
Lime
Obviously we're partial to grilling our chops, but that's certainly not the only way to prepare them. If you do go the oven route, it's best to smother your meat in a sea of scalloped potatoes and cheese. Check out the recipe here.
Key ingredients:
Potatoes
Onions
Cream of mushroom soup
Cheddar cheese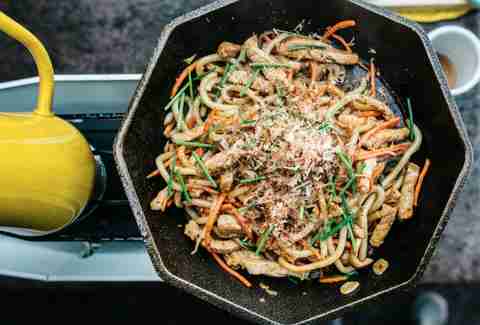 If you're bored of pork chops on the grill, take them camping this summer and make an open-air Japanese noodle dish. Stephanie, the recipe's author, suggests bringing packets of soy sauce along so you don't have to lug around a whole bottle. Try it here.
Key ingredients:
Udon noodles
Carrots
Soy sauce
Scallions
Bonito flakes
Double the amount of Jack Daniel's called for here -- half for the pork chop, half for the chef! Get the recipe here!
Key ingredients:
Whiskey
Molasses
Soy sauce
Chili pepper paste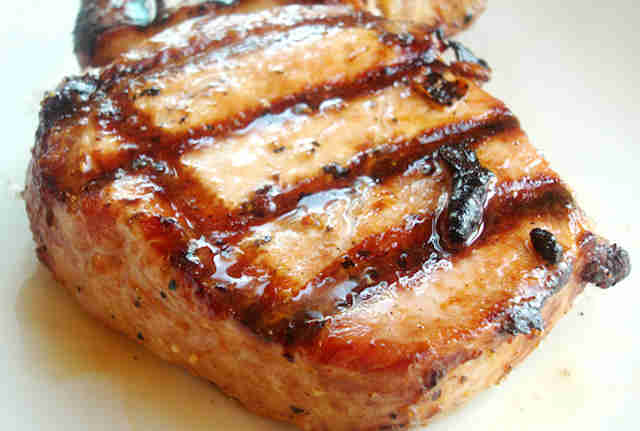 This recipe takes us back to basics: the chops are marinated in a trio of olive oil, soy sauce, and steak seasoning before hitting the grill for a nice sear. Find the recipe here!
Key ingredients:
Olive oil
Soy sauce
Steak seasoning
Pesto is an excellent summer condiment, whether it's on a pasta dish or used as a marinade. For the latter, we love this orange parsley variation. The fresh orange zest gives it just enough of that sweetness that goes so well with pork. See the recipe here.
Key ingredients:
Pecans
Parsley
Garlic
Orange
This whole recipe only takes 20 minutes from start to finish. Honey balances the acidity of the balsamic vinegar in this sweet-and sour-glaze that's sure to make its way into your repertoire. Find the recipe here.
Key ingredients:
Balsamic Vinegar
Honey
Garlic
Oregano
Basil
Thyme
A sultry sauce of lemon, thyme, butter, and cream makes this the ultimate summer comfort dish. See the recipe here.
Key ingredients:
Butter
Lemon
White wine
Thyme
Heavy cream
Roasted almonds, roasted red peppers, tomatoes, and parsley are a perfect summer combination for this sauce over pork chops. Serve with your favorite seasonal veggies. Recipe here.
Key ingredients:
Red peppers
Almonds
Parsley
Tomato
Garlic
If for some reason you're not feeling the bourbon in this recipe, it can easily be replaced with apple cider, as both mix well with molasses and mustard. Oh, and there's bacon on top for good measure. Get the recipe here.
Key ingredients:
Bacon
Molasses
Bourbon/cider
Dijon mustard
Take a note from the Tuscan countryside with this variation. Warm, grilled pork chops are served over a bed of arugula with hints of lemon, olive oil, and rosemary. Finish it all off with pecorino shavings! Bookmark the recipe here.
Key ingredients:
Lemon
Rosemary
Dijon mustard
Arugula
Pecorino cheese
Sometimes all pork chops need is a little lemon and garlic. Check out this crazy-simple video and recipe here.
Key ingredients:
Here's a classic barbecue recipe you'll make all summer. Double or triple the ingredients for an extra-saucy variation. Check out the recipe here.
Key ingredients:
Brown sugar
Ketchup
Worcestershire sauce
Soy sauce
Thyme
Garlic
Apricot jam takes a classic pairing of pork chops with apples and onions to a new level for a sweet-and-saucy crowd-pleaser. Serve this at a late-summer dinner party, when apples are just beginning to show face. Recipe here.
Key ingredients:
Apricot jam
Apples
Onions
Chicken stock
Garlic
Sign up here for our daily Thrillist email, and get your fix of the best in food/drink/fun.