Potato Chip Brownies Are an Even Better Duo Than Fries & Frostys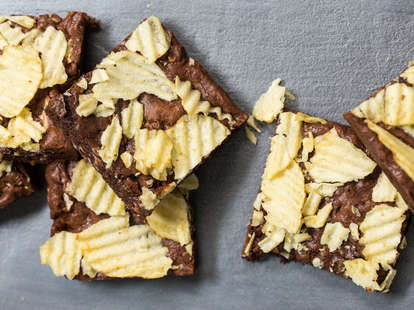 Sweet 'n' savory isn't just what I wanted to name my all-girl hip-hop group in '93. It's also how I prefer all of my desserts. Adding a little salt to sweets enhances the flavor, like French fries with Frostys. But by incorporating salt and texture with crunchy ribbons of potato chips, these rich, fudgey brownies are even better than that classic combo.
Potato Chip Brownies Recipe
Total Time: 45 minutes
Yield: 9-12 brownies
INGREDIENTS:
6 ounces bittersweet chocolate
1 stick unsalted butter
1 cup sugar
1 tablespoon unsweetened cocoa powder
1 tablespoon instant espresso powder
¼ teaspoon salt
2 large eggs
1 teaspoon vanilla extract
1 cup all-purpose flour
3 cups ruffled potato chips, roughly broken up
DIRECTIONS:
Heat the oven to 350°F and arrange a rack in the middle. Grease a 9-by-9-inch baking pan and line it with parchment paper or aluminum foil.
Combine the chocolate and butter in a medium saucepan and cook over medium-low heat, stirring frequently, until evenly melted. Remove from heat and let cool to room temperature.
Combine sugar, cocoa powder, espresso, and salt in a large bowl and whisk to combine. Add eggs, vanilla, and melted chocolate; mix until uniform in color. Add flour and stir until just incorporated. Gently fold in 1 cup potato chips. Pour batter into the pan and even it out with a spatula. Top with remaining potato chips.
Bake until a toothpick inserted into the center of the brownies comes out clean, about 25 to 30 minutes. Remove from the oven and let cool completely before cutting into 9 squares or 12 rectangles.