Because anything that can be stuffed can be stuffed with nachos (except teddy bears. Please don't do that.), I've combined the South-of-the-border flavors of your favorite bar food with the kind of comfort you can only find inside a warm loaf of bread. Each cheesy bite melts in your mouth without the hassle of chewing sharp, jagged chips. You're welcome, bottom-of-the-platter nacho lovers.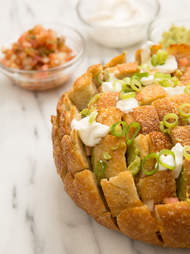 Drew Swantak/Thrillist
Pull-Apart Nacho Bread Recipe
Ingredients:
8 tablespoons (1 stick) unsalted butter, melted
1/2 teaspoon garlic powder
1/2 teaspoon salt
2 green onions, finely chopped
1 sourdough boule (about 1 pound)
1 cup shredded cheddar cheese
1/4 cup salsa
1/4 cup guacamole
3 tablespoons sour cream
Directions:
Preheat the oven to 350℉.
Whisk garlic powder, salt, and green onions into the melted butter.
Cut the bread into 1-inch squares but do not cut all the way through to the bottom. Use your fingers to pry open each crack and drizzle in a teaspoon of butter and stuff in a pinch of cheese.
Wrap the loaf with foil and bake for 20 minutes, until the cheese has mostly melted. Unwrap and bake for 5 minutes to crisp the crust.
Stuff the cracks with salsa, guacamole, and sour cream. Serve warm.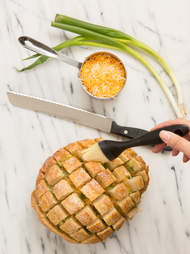 Drew Swantak/Thrillist