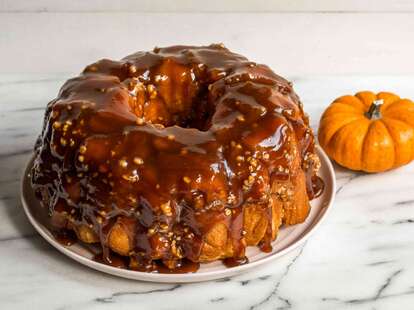 Photo by Cole Saladino for Thrillist
I'm just as sick of hearing about pumpkin-spiced foods as anyone else, but the ubiquity of the trend is absolutely for a reason: pumpkin spice flavoring is effing delicious. Which is why I'm honoring the seasonal staple by cross-breeding it with a sweet-and-sticky puzzle pastry. Pair it with a PSL for breakfast if you dare—it'll be anything but basic.
Pumpkin Spice Monkey Bread Recipe
Yield: 10-inch bundt cake
Total Time: 50 minutes
Ingredients:
1 stick unsalted butter
½ cup pumpkin puree
1 ½ cups packed brown sugar
1 cup white sugar
1 teaspoon pumpkin pie spice
¼ teaspoon salt
2 cans Pillsbury Grands! biscuits
¼ cup toffee bits
¼ cup chopped walnuts
Directions:
1. Preheat oven to 350℉. Grease a 10- to 12-cup bundt pan or tube pan; set aside.
2. In a medium saucepan, combine butter and pumpkin. Stir over medium heat until butter is melted. Add sugars, pumpkin spice, and salt. Stir constantly until sugars are melted and the mixture begins to bubble and thicken.
3. Cut each of the 16 biscuits into quarters, making 64 pieces. Place them into the bundt pan, along with the toffee and walnuts. Mix them up so everything is evenly dispersed. Pour the pumpkin mixture over the biscuits, evenly coating all the dough.
4. Bake for 30-35 minutes, until golden brown.
5. Remove the bread from the oven and let cool in pan for 15 minutes.
6. Invert it out of the pan onto a plate. Serve warm.
Perry Santanachote is a former recipe editor at Thrillist. She spent an hour (OK, two) searching for videos of monkeys baking bread. Warning, the term "monkey bread" is misleading. Follow her at @perrysant.