Give the Gift of Red Velvet Pancakes This Valentine's Day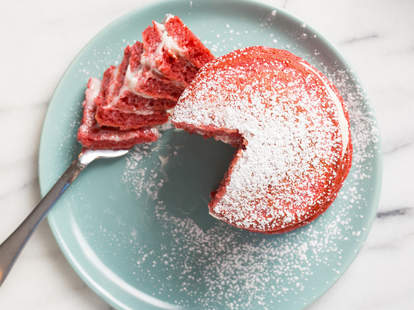 She doesn't need flowers. She doesn't need chocolates. She doesn't need jewelry.
If you really want to show her you love her, make her a stack of cream cheese frosting-stuffed red velvet pancakes.
You are welcome.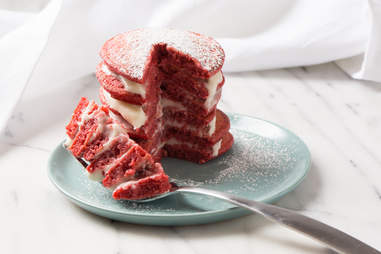 Cole Saladino/Thrillist
Red Velvet Pancakes Recipe
Total Time: 35 minutes
Yield: 2 servings
INGREDIENTS:
8 ounces cream cheese, at room temperature
1 stick unsalted butter, at room temperature
½ teaspoon vanilla extract
2 cups powdered sugar
2 cups all-purpose flour
1 tablespoon unsweetened cocoa powder
½ teaspoon baking soda
½ teaspoon baking powder
½ teaspoon salt
2 large eggs
¾ cup sugar
1 ¼ cups buttermilk
1 stick unsalted butter, melted
2 teaspoons red food coloring
1 teaspoon vanilla extract
1 teaspoon apple cider vinegar
DIRECTIONS:
With an electric mixer, beat cream cheese, butter, and vanilla together until smooth. Add powdered sugar and beat on low until incorporated. Increase the speed to high and mix until light and fluffy. Transfer frosting to a large Ziploc bag, snip a small corner off, and chill it in the fridge while you make the pancakes.
In a large mixing bowl, whisk together flour, cocoa powder, baking soda, baking powder, and salt. In another bowl, beat eggs and sugar until pale yellow. Add buttermilk, melted butter, food coloring, vanilla, and vinegar; mix until combined. Gradually stir the dry ingredients into the wet ingredients until just incorporated.
Preheat a griddle to 325℉ or place a large nonstick skillet over medium-low heat. Drop tablespoons of batter onto the griddle. Once bubbles pop on the surface, flip pancakes with a spatula. Cook for 1-2 minutes and transfer to a wire rack. Repeat with remaining batter (you should have 12 small pancakes).
Stack pancakes on two plates, piping cream cheese frosting in between each layer. Top with powdered sugar right before serving.
Cole Saladino/Thrillist
Sign up here for our daily Thrillist email, and get your fix of the best in food/drink/fun.
Perry Santanachote is Thrillist's recipes editor and hopes you get lucky this Valentine's Day. Follow her at @perrysant.