Slow Cooker Chipotle Pulled Pork with Apple Slaw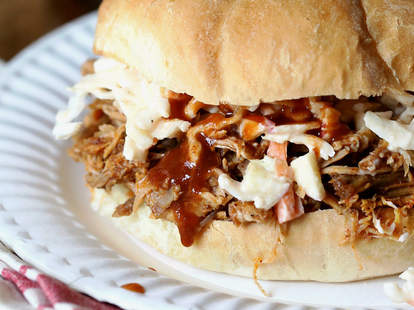 Slow Cooker Chipotle Pulled Pork with Apple Slaw
Step aside dated pork chops with goopy applesauce -- this slow-cooker-made pulled pork heats things up with the TABASCO® Chipotle Sauce and cools things down with a yogurt-and-cider-vinegar apple slaw.  
INGREDIENTS:
For the pork:
1/4 cup light brown sugar
1/4 cup chili powder
2 teaspoons garlic powder
1 teaspoon onion powder
2 teaspoons salt
1 (3- or 4-pound) boneless pork shoulder
For the BBQ sauce:
1/2 cup ketchup
1 1/2 teaspoon Worcestershire sauce
2 teaspoons apple cider vinegar
2 tablespoons honey
2 tablespoons TABASCO® brand Chipotle Pepper Sauce
For the apple slaw:
1 (14-ounce) bag coleslaw mix
2 apples, diced
1 cup Greek yogurt
2 tablespoons apple cider vinegar
2 teaspoons TABASCO® brand Chipotle Pepper Sauce
1 tablespoon honey
1/4 teaspoon garlic powder
Salt and pepper, to taste
Rolls
DIRECTIONS:
Prepare the pork: In a bowl, combine brown sugar, chili powder, garlic powder, onion powder and salt. On a cutting board, coat pork with dry rub. Transfer pork to slow cooker; cook 4 hours on high or 8 hours on low until pork easily falls apart. Drain fat and shred with a fork or wooden spoon.
Prepare the BBQ sauce: In a bowl, combine ketchup, Worcestershire, vinegar, honey and TABASCO®  Chipotle Sauce; pour over pork and stir to combine. Turn slow cooker to warm until ready to serve.
Prepare the apple slaw: In a large bowl, combine slaw and apple. In another bowl, mix yogurt, vinegar, TABASCO® Chipotle Sauce, honey, garlic powder, salt and pepper. Pour over slaw and stir to coat completely. Place in refrigerator until ready to serve.
To serve, place pork on rolls and top with a heaping scoop of apple slaw.