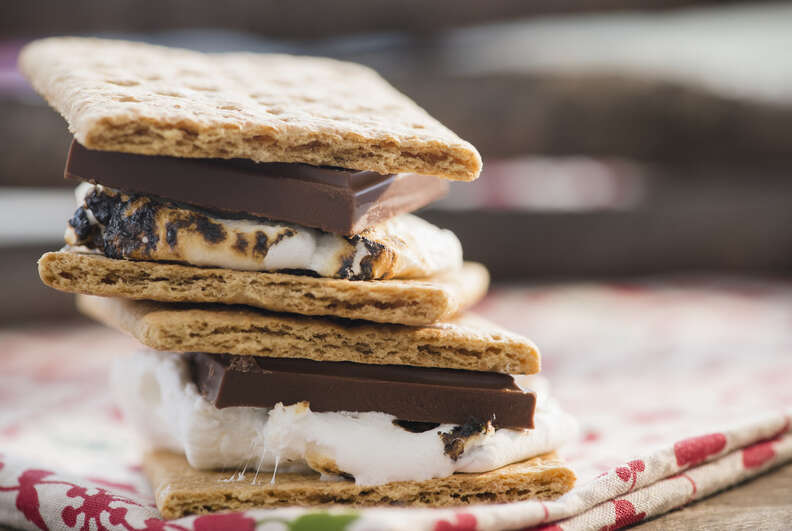 Remember when you were a kid and you'd search high and low for a good stick to roast a marshmallow on before you slammed it between a Hershey's bar and two graham crackers? Remember?? Well, summertime cravings for s'mores, the most American of all American foods, certainly don't end at adulthood. But rather than go looking for a cooking stick, try one of these recipes that go well beyond the original three-ingredient treat. It's August 10th, after all, and we all know what day that is: National S'mores Day.
Sub your standard chocolate bar for peanut butter cups (or even better, bacon peanut butter cups), pile on the bananas and a layer of bacon, and you have yourself a s'more fit for the King. Recipe here!
Cookie bars mean you can enjoy s'mores any time you want. Crush up your grahams and mix them with flour to create a base, then dollop on the marshmallow topping and sprinkle the chocolate chips. No bonfire required! Find the recipe here.
The marshmallow component is represented by meringue rather than actual marshmallow. They'll take a little time and patience (you have to pipe the filling into the strawberries) but they're 100% worth it. Recipe here.
All these stupid-easy frozen treats require are marshmallows, store-bought pudding cups, graham cracker crumbs, popsicle sticks, and the patience to wait two hours while they freeze. Here's the recipe.
There's no reason to wait until dessert to enjoy s'mores. The wheat flour waffle batter mimics the graham cracker flavor, but those nooks and crannies are arguably a much better vehicle for all that melty chocolate and marshmallow. Find the recipe here.
Slutty brownies are great and special brownies are lovely too, but s'mores brownies, are really something to talk about. Make a classic butter and graham cracker crust, then layer on the brownie mix. Top it all off with a layer of mini 'mallows and pop that sucker under the broiler. The result is a crunchy, chewy chocolatey concoction. Get that recipe!
For the uninitiated, monkey bread is basically a puzzle of pastry (frequently Pillsbury biscuit dough that's been cut into sections) packed with goodies, like pumpkin spice and toffee bits, for example. This version, however, is loaded with mini marshmallows and chocolate chips. Recipe here!
All the main food groups are represented: cake, Nutella, marshmallow, graham cracker, and buttercream. Recipe here!
Making your own marshmallows from scratch is not the simplest task, but the flavor of homemade 'mallows is far better than their store-bought counterparts. Dip these lil' guys in melted chocolate and coat them in graham cracker dust, and you've got the classiest effing s'mores this side of the campfire. Find the recipe here.
Sign up here for our daily Thrillist email, and get your fix of the best in food/drink/fun.
Julianne Feder is a contributing writer for Thrillist. She always manages to burn her marshmallow right before it gets golden brown. Follow her @TheGastroNerd or watch her on YouTube to get more nerdy food insights and other cooking tips.