Spaghetti-stuffed meatballs are like Inception for your mouth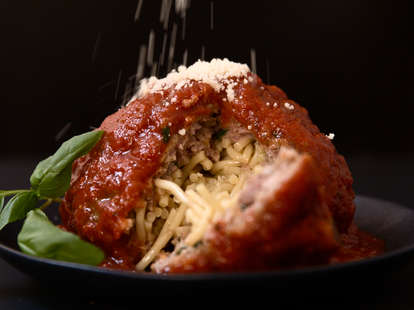 Drew Swantak
Drew Swantak
Hilarious Lady and the Tramp references aside, the act of eating spaghetti and meatballs can be a messy, harrowing experience. In order to avoid having your clothes resemble a blood-spattered crime scene, I've tamed the saucy noodles by stuffing them inside a giant meatball. Each bite has just the right meat-to-noodle-to-sauce ratio, so you can keep your clothes clean and leave the unintentional noodle make outs for 1950s Disney dogs.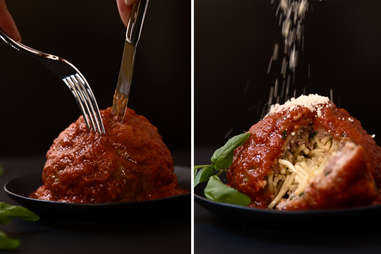 Spaghetti-stuffed Meatballs Recipe
Total Time: 1 hour, 45 minutes
Yield: 4
INGREDIENTS:
2 cups fresh breadcrumbs
2/3 cup whole milk
1 pound 80% lean ground beef
1 pound ground pork
1 1/2 cups finely grated Parmesan cheese
1/3 cup finely chopped Italian parsley
1 tablespoon finely chopped oregano
2 teaspoons salt
1 teaspoon freshly ground black pepper
2 garlic cloves, minced
1/2 teaspoon ground nutmeg
2 large eggs, whisked
4 ounces dry spaghetti noodles
1 tablespoon olive oil
6 cups marinara sauce
DIRECTIONS:
Place breadcrumbs in a small bowl and pour milk over them, making sure to evenly moisten all crumbs. Let stand while you mix the meat.
Combine beef, pork, 1 cup Parmesan, parsley, oregano, salt, pepper, garlic, and nutmeg in a large bowl. Mix with your hands until incorporated but don't overmix. Full chunks of ground meat should still be visible. Add eggs and breadcrumbs; gently mix just until all ingredients are combined. Cover and chill in refrigerator for 30 minutes.
Cook spaghetti according to package instructions for al dente pasta. Drain and drizzle with olive oil to prevent clumping.
Preheat oven to 350°F. Grease a baking sheet and set it aside.
Lightly oil your hands and roll 1 cup of meat into a ball. With the ball in one palm, create an indentation with your other hand, molding it into a bowl shape. Grab a forkful of spaghetti (about 1/3 cup) and swirl it in the meat bowl until it's a tight bun, release fork and fold in the edges of the meat bowl so it completely seals the spaghetti inside [PHOTOS BELOW]. Place the meatball on the baking sheet. Repeat until you have 4 meatballs.
Bake until browned and cooked through, about 30 minutes.
In a medium pot, bring marinara sauce to a simmer over medium heat (reduce heat if it starts to spit at you).
When meatballs are done, place each one on an individual plate and top with lots of sauce and remaining Parmesan.