These Reuben Nachos Will Impress the Shit Out of Your Super Bowl Party
The Reuben is the single greatest sandwich of all time. This is an irrefutable fact. First, the Reuben is so badass that it gets to go by one name, like Pelé, or Neymar, or Cher, or Alf. Second, it hits every single branch on its way down the flavor tree -- starchy and aromatic rye bread, salty corned beef, funky sauerkraut, fatty cheese, and grotesquely sugary Russian dressing.
Third, I am maybe super-biased. My go-to late-night spot in college was a 24-hour Jewish deli where I'd get a Reuben, a latke plate, and a bowl of Russian dressing on the side for dipping. So my judgment is skewed by rose-colored liquor goggles. But in New America, you can present biased personal beliefs as fact, so I'm going to take full advantage of that. 'Merica rules! Suck it, others.
Perhaps one of the greatest things about the corned beef Reuben is that its flawless flavor combo can be translated across any sort of canvas. The Reuben's ethos is by no means limited to sandwiches. Want to go low-carb? Make a Reuben omelet. Trying to get tipsy? Throw some Russian dressing in a glass of gin for a Reuben-tini. There are no rules! Want to create a giant platter of melty, shareable Reuben tastiness? That's where these Sriracha Reuben nachos come into play.
First things first, the base of all good nachos is a dank liquid-cheese product. Microwaving shredded cheddar on top of chips is no way to live your best nacho life. That's why you're going to make a Gruyere cheese sauce (with some beer thrown in for extra funk). And Gruyere is like a saltier, more complex version of the traditional deli-style Swiss that would typically go on a Reuben, which makes it an optimal nacho choice.
Gruyere doesn't melt particularly smoothly, which is why you have to start with a roux -- a cooked mixture of butter and flour. The flour is going to act as a binding agent for the cheese and beer, ensuring a perfect melty flow over every chip. This is a very good thing.
When you're making a fusion recipe, you also have to consider how to marry the flavors of the dishes you're melding together. When it comes to Reubens and nachos, the answer is simple: throw a bunch of hot sauce at it. The ideological cornerstone of this recipe is the Sriracha Russian dressing. It's sweet, creamy, and crunchy, just like the classic version of the dressing, but it also has an added kick to the face to remind you that nachos are supposed to make the morning after real uncomfortable. Now, go and be your own snacking hero.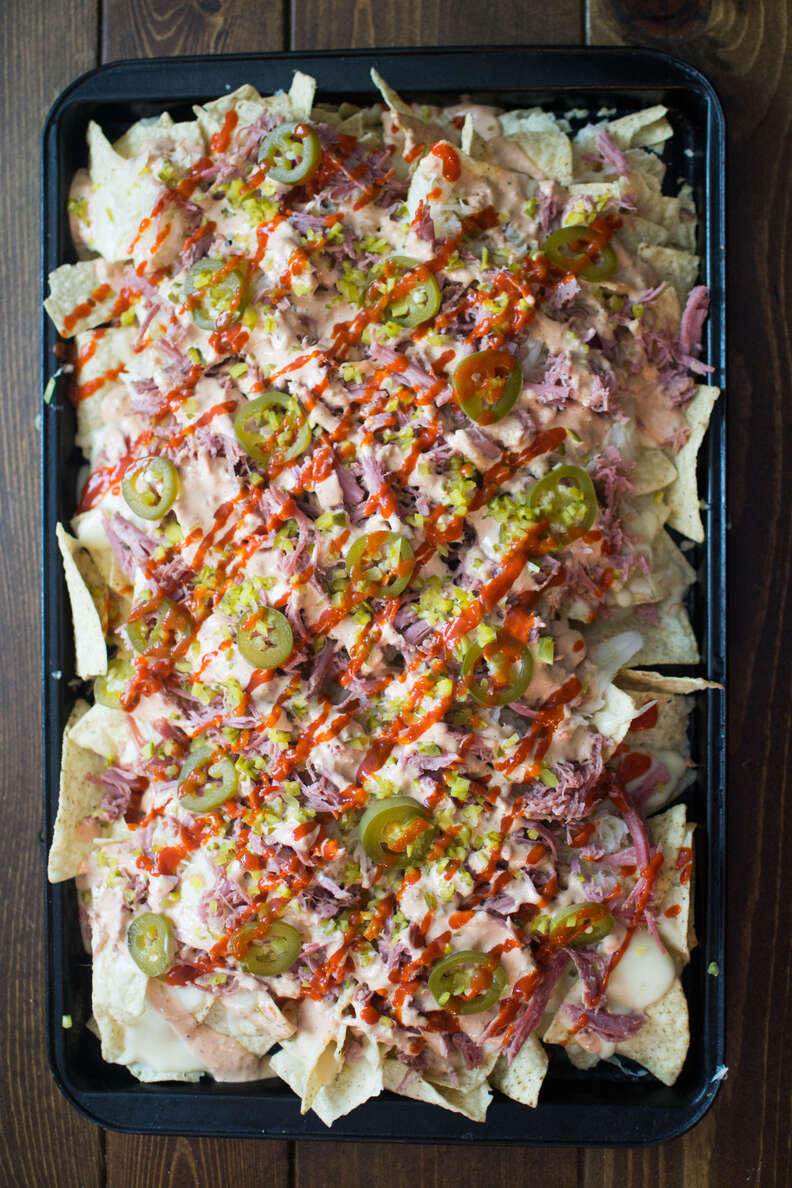 JOSH SCHERER/THRILLIST
Reuben Nachos
Total Time: 5 hours 25 minutes, Active Time: 25 minutes
Yield: Serves 6
INGREDIENTS:
2.5 pounds beef brisket (To save 5 hours of your time, you can use pre-cooked corned beef lunch meat. But know that you're dead to me.)
2 tablespoons butter
2 tablespons all-purpose flour
6 ounces light beer
1 cup whole milk
½ teaspoon salt
½ teaspoon ground black pepper
12 ounces Gruyere cheese, shredded
1 ½ cups mayonnaise
¾ cup ketchup
4 tablespoons Sriracha
1 tablespoon Worcestershire sauce
2 tablespoons finely minced kosher dill pickles
2 tablespoons finely minced white onion
2 tablespoons finely minced red bell pepper
½ teaspoon chili powder
12-ounce bag of tortilla chips (go with your personal fave brand here)
15-ounce jar of sauerkraut, drained
Pickled jalapeños and extra Sriracha for serving
DIRECTIONS:
If you are making the corned beef, heat your oven to 300 degrees, or use a slow cooker on low heat. (If using corned beef lunch meat, just chop it up into small pieces so it can be evenly dispersed among chips.) Place the beef brisket in a deep casserole dish (any size big enough to house the meat works) along with 1 cup of water. Cover tightly with foil then throw in the oven for 5 hours until tender and fully cooked.
Make your beer cheese sauce! Melt your butter over medium heat in a 5-quart sauce pot, add the flour, and continuously whisk for 4 or 5 minutes, until the mixture turns a light amber color. Add your beer, milk, salt, and pepper. Crank the heat up to high, and whisk for an additional 5 minutes to cook off some of the alcohol. Turn the heat back to medium and add in your cheese. Stir for about 2 minutes until the cheese is melty and fully incorporated. Turn off the heat and reserve the beer cheese sauce.
Now it's time to make your Sriracha Russian dressing! OK, fine, it's kind of a hybrid Russian and Thousand Island, but whatever. Whisk together mayo, ketchup, Sriracha, Worcestershire, pickles, onion, bell pepper, and chili powder until evenly combined. Cool, that's it.
Put the sauerkraut in a microwave-safe bowl and nuke it until it's warm (a minute should do). Maybe even hot. This part can be inexact, as long as you don't put ice-cold kraut on your nachos.
Assemble your feast. Lay out a 16x12-inch baking sheet (or a similarly sized slab for serving) and dump out the entire bag of chips, spreading evenly. Drizzle all of your cheese sauce over the chips, followed by the sauerkraut, followed by shredded corned beef, followed by a heavy dose of that Sriracha Russian dressing. Top it off with pickled jalapeños and more Sriracha because these are nachos god dammit and you gotta bring the heat.

Sign up here for our daily Thrillist email, and get your fix of the best in food/drink/fun.
Josh Scherer is the author of the forthcoming cookbook,
Culinary Bro-Down: Recipes for a Dope-Ass Life
. He thinks Taco Bell is the greatest restaurant the world has ever known. Follow him @culinarybrodown.