Tater tot potato skins just became your favorite bar snack ever
Drew Swantak
Drew Swantak
In lieu of baking a cake or sending them a $25 Dave & Buster's gift certificate, we decided to celebrate Ore-Ida tots' 60th anniversary by doing the next best thing: turning their signature spuds into our favorite bar snack. Each crispy "potato skin" is brushed with garlic oil for an extra kick of flavor, then loaded with cheese, bacon, sour cream, and green onions. Every bite is just as magical as hitting the jackpot on the Big Bass Wheel and using all your tickets to buy the 5ft-tall banana.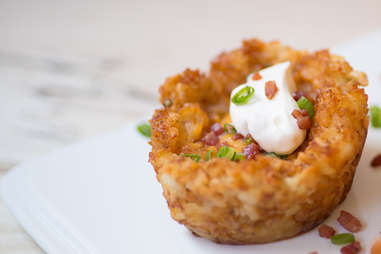 Tater Tot Potato Skins Recipe
Total Time: 1 hour
Yield: 6
INGREDIENTS:
2 pounds Ore-Ida tater tots
3 tablespoons vegetable oil
1 tablespoon grated Parmesan cheese
1/2 teaspoon salt
1/4 teaspoon garlic powder
1/4 teaspoon paprika
1/8 teaspoon ground black pepper
4 slices bacon, cut into 1/4-inch pieces
1 cup shredded cheddar cheese
1/4 cup sour cream
1 large green onion, sliced thin
DIRECTIONS:
Preheat oven to 425℉.
Place tater tots in a microwave-safe bowl. Microwave on high until soft, 4-6 minutes.
In small bowl, mix oil, Parmesan, salt, garlic powder, paprika, and pepper.
Mold about 15 tots into each section of a jumbo muffin pan. Brush oil mixture over the tots. Bake until golden brown and crispy, about 25 minutes.
In the meantime, cook bacon in a medium skillet over medium heat until crisp; transfer to paper towel to drain.
Remove tots from the oven, fill them with cheese and bacon. Return to oven until cheese is melted, 3-4 minutes.
Let cool slightly before gently removing them from the muffin pan with a fork or spoon. Top with sour cream and green onions.