Texas-Style Chipotle Beef Rub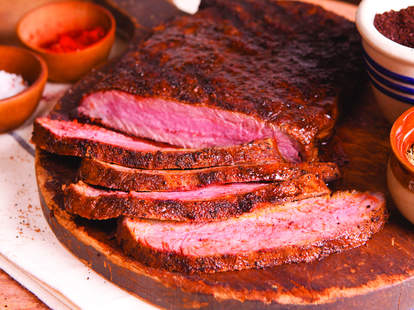 Texas-Style Chipotle Beef Rub
If you want to rub elbows with tasty, uniquely American eats, look no further than Texan cuisine -- this spicy beef rub is a prime example.
INGREDIENTS:
1/3 cup dark brown sugar, packed
3 tablespoons dark-roasted coffee grounds, finely ground
2 1/2 tablespoons salt
1 1/2 tablespoons granulated dry garlic
1 tablespoon paprika
1 1/2 teaspoons dried oregano leaves
1/3 cup TABASCO® brand Chipotle Pepper Sauce
DIRECTIONS:
Combine dark brown sugar, ground coffee, salt, garlic, paprika and oregano in medium bowl. Add TABASCO® Chipotle Sauce; stir until well mixed.
Rub on 1 1/2 pounds beef flank or skirt steaks. Or rub on roasts and ribs. Refrigerate 20 minutes to marinate before grilling.