Thanksgiving leftover fritters are like a carnival you can take anywhere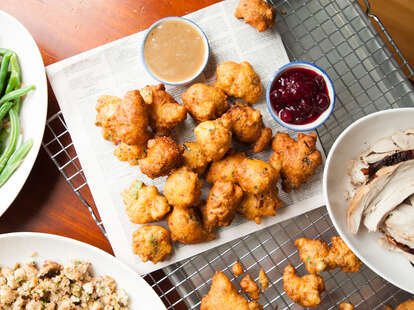 Perry Santanachote
Perry Santanachote
Because you're going to need to get out of the house after spending the third straight day talking to Aunt Beatrice about nude Tantric Yoga, you'll need fuel to-go. Take those Thanksgiving leftovers -- turkey, stuffing, WHATEVER, toss them into some cayenne-spiced cornbread batter, and fry them up. Once they cool, you'll be able to take them anywhere... unlike your weird, pervy aunt.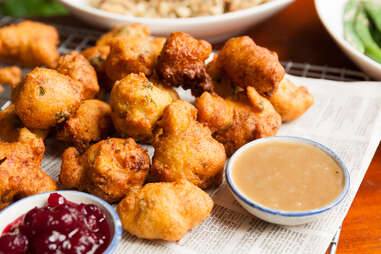 Thanksgiving Leftover Fritters Recipe
Total Time: 40 minutes
Yield: 32 fritters
INGREDIENTS:
3/4 cup all-purpose flour
1/2 cup medium-ground cornmeal
2 teaspoons baking powder
1 teaspoon salt
1/2 teaspoon ground black pepper
1/4 teaspoon sugar
1/4 teaspoon cayenne pepper
3/4 cup whole milk
1 large egg
2 cups solid leftovers (turkey, stuffing, green beans), chopped into 1/2-inch pieces
1-2 quarts vegetable oil, for frying
Cranberry sauce and/or gravy, for dipping (optional)
DIRECTIONS:
In a large bowl, whisk together flour, cornmeal, baking powder, salt, black pepper, sugar, and cayenne.
In a small bowl, whisk milk and egg until combined; pour into flour mixture. Stir until combined. Add the Thanksgiving leftovers and stir until evenly mixed.
Pour oil into a large, heavy-bottomed pot until it's about 3 inches deep. Place over medium-high heat until it reaches 365°F on an oil thermometer. Carefully drop 5 tablespoons of batter into the oil. Fry, turning occasionally, until golden brown all over, about 4 minutes. Using a slotted spoon, transfer the fritters to a wire rack or paper towels to drain. Repeat with the remaining batter.
Serve immediately with leftover gravy and cranberry sauce.