14 Fall-off-the-Bone Slow Cooker Rib Recipes
What's the secret to a great rack? A slow cooker, of course! Just toss in the ingredients and let the appliance do all the work. From beer-soaked short ribs to sweet-and-spicy baby backs, here are our 14 favorite rib recipes. Don't forget napkins.
Apricots and raspberries sweeten the pot while chilies heat things up. Try it!
Key ingredients:
Brown sugar
Habanero chilies
Pineapple juice
Worcestershire sauce
Apricots
Between the gravy mix, ranch dressing mix, two types of peppers and a splash of Jack Daniels, there's quite a lot going here. Can you handle it? Find out.
Key ingredients:
Pork spare ribs
Ranch dressing mix
Butter
Pepperoncini peppers
Jack Daniels whiskey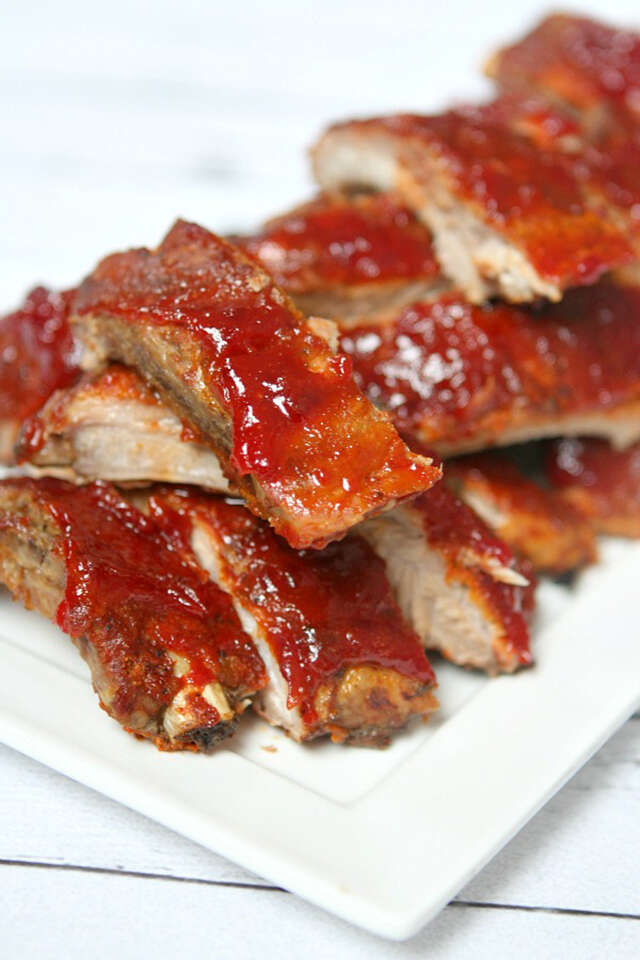 Double down on seasoning with a dry rub followed by a glaze of sweet cranberry sauce that offsets the smoked paprika and spicy Sriracha. Get the recipe.
Key ingredients:
Garlic powder
Smoked paprika
Sriracha/ketchup blend
Baby back ribs
Cranberry sauce
Everything tastes better with an egg on top, particularly these Korean-style braised short ribs. Recipe here.
Key ingredients:
Soy sauce
Brown sugar
Sesame oil
Pine nuts
Egg
Fifteen minutes is all it takes to get all those sweet and spicy ingredients into the pot, and six hours is how long to wait before you can eat what comes of them. The sweetness of the coconut sugar might be overwhelming for some but it's totally, totally necessary to calm the zing from the ginger and red chili flakes. Try it here.
Key ingredients:
Beef short ribs
White mushrooms
Coconut or brown sugar
Soy sauce
Grated ginger root
Bone-in or boneless is totally up to you as this no-frills ribs recipe works both ways. Make it here!
Key ingredients:
Garlic
Red wine
Apple cider vinegar
Brown sugar
Tomato paste
Polenta adds a creamy element, and searing the meat before adding it to the slow cooker will enhance the flavor! Get the recipe.
Key ingredients:
Brown sugar
Pomegranate juice
Soy sauce
Short ribs
Carrots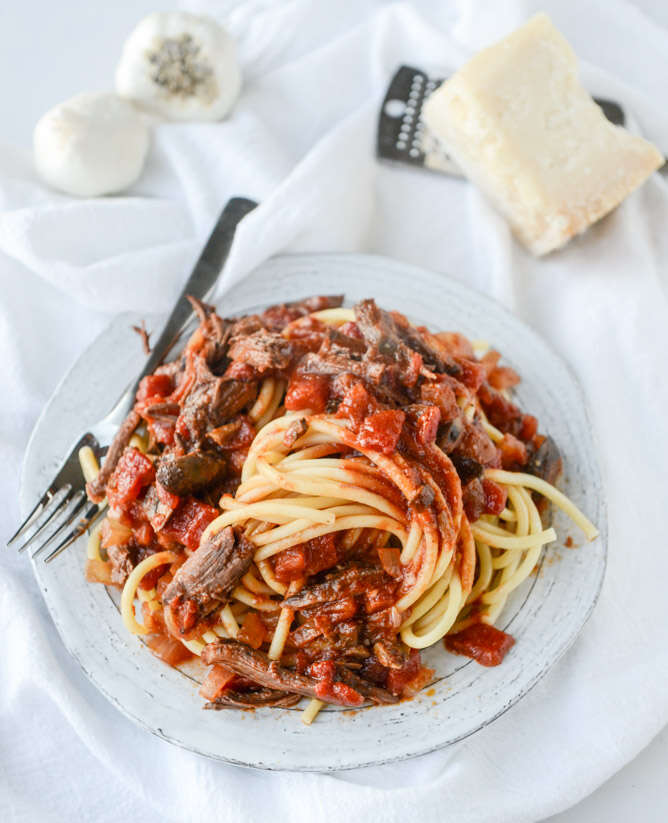 Add interest to your classic pasta-and-tomato sauce and add tender chunks of savory short ribs. Top it all off with a sprinkle of grated cheese. Dig in!
Key ingredients:
Cremini mushrooms
Bucatini pasta
Tomato sauce
Beef stock
Red wine
Cherries and orange juice add rich flavor (substitute cranberries if you don't have the former), so serve the stuff over plain white rice to keep the fruit in focus. Recipe here.
Key ingredients:
Dried cherries
Orange juice
Cornstarch
Olive oil
Short ribs
Fresh mango salsa is a necessity to cut the fattiness of the short ribs and Thai peanut sauce. Here's the recipe.
Key ingredients:
Beef short ribs
Lettuce leaves
Mango
Coconut milk
Peanut butter
The cooking time is long, so it's wise to use canned potatoes in lieu of fresh cut ones -- they'll get less mushy. Recipe here.
Key ingredients:
Au jus gravy mix
Flour
Bottle of ale or beer
Onion
Heavy cream
Cooked in an orange cinnamon sauce, it tastes like comfort food, but it happens to be fad diet-friendly -- paleo, gluten-free, and dairy-free. Get the recipe.
Key ingredients:
Beef short ribs
Carrots
Chicken stock
Tomato paste
Orange
Start with a dry rub and finish them off with a heavy maple syrup glaze. Recipe here.
Key ingredients:
Brown sugar
Ground sage
Ground ginger
Garlic powder
Maple syrup
Recipe author Stephanie suggests preparing a huge rack of baby back ribs for easy eating at a dinner party. Get your hands dirty here.
Key ingredients:
Honey
Hoisin sauce
Sweet soy sauce
Black vinegar
Baby back ribs

Sign up here for our daily Thrillist email, and get your fix of the best in food/drink/fun.
Alisha Prakash is a contributing writer at Thrillist NYC. She doesn't trust people who don't like ice cream. You can find more of her musings on her website or follow her on Twitter or Instagram.