Pork tenderloin is often an overlooked cut of meat; some people think it doesn't have enough fat to be flavorful. But these people have clearly never tried any one of these eight slow-cooker recipes before. Balsamic vinegar and honey? Yes. Bacon-wrapped? YES. And do not be deterred by the slow cooker just because it's spring now -- it's always pork season around these parts.
This pork tenderloin is bacon-wrapped. We probably don't have to say more, but we will anyway, because it also has a fig jam glaze. And that's important. Here's the recipe.
Key ingredients:
Brown sugar
Bacon
Garlic
Rosemary
Fig jam
It's all the flavor of stuffed pork tenderloin, without all the work. The sweetness comes from apples and cinnamon. Check it out right here.
Key ingredients:
Apples
Cinnamon
Chicken stock
Onions
Honey
Just close your eyes and imagine the sweet-and-tangy deliciousness of a honey and balsamic tenderloin. Or don't imagine it and just make it here.
Key ingredients:
Honey
Balsamic vinegar
Brown sugar
Soy sauce
A classic pork tenderloin gets a few upgrades with mustard, soy sauce, and maple syrup for a sweet kick. Bonus: the sauce can be poured over rice for an amazing side dish. Get the recipe here.
Key ingredients:
Mustard
Soy sauce
Onions
Maple syrup
Garlic powder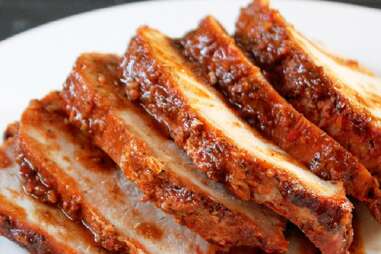 This recipe can be easily duplicated for a slow cooker. The tenderloin gets great flavor and kick from a spice rub that includes chili powder, garlic, ginger, paprika, brown sugar, and Creole seasoning. All it takes is about four hours. Check out the recipe here.
Key ingredients:
Soy sauce
Garlic
Chili powder
Chicken broth
If "balsamic gravy" doesn't pique your interest, then maybe "super-easy and deliciously tender and sweet pork" will! Stop drooling and start cooking with the recipe here.
Key ingredients:
Balsamic vinegar
Soy sauce
Worcestershire
Honey
Chicken broth
Scroll to the bottom of the recipe for the slow-cooker version of this dish. And don't forget to make the "mojo sauce," a marinade of cilantro, orange & lime juice, jalapeños, and olive oil. Think Cuban pesto. The recipe's here.
Key ingredients:
Orange juice
Lime juice
Cilantro
Garlic
Olive oil
Searing the pork on all sides in a pan before putting it in the slow cooker adds a lot of flavor depth. This recipe also calls for making gravy from the leftover sauce by adding a little cornstarch. You don't have to, but why not have gravy, when you CAN have gravy? Check it out right here.
Key ingredients:
Chicken broth
Garlic
Onion powder
Soy sauce
Cornstarch

Sign up here for our daily Thrillist email, and get your fix of the best in food/drink/fun.
Dara Pollak is a freelance writer and recipe creator. She likes her pasta with a side of bacon. Follow her at @theskinnypignyc.