Blueberry Pancakes So Good, Your Mom Will Ask for the Recipe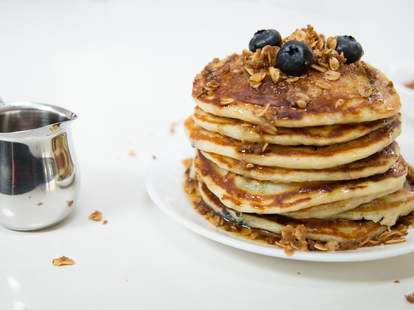 Tony Biancosino/Thrillist
Your mom has had low expectations for Mother's Day ever since the year you accidentally dumped a tray of OJ and cereal on her in bed. But it's been 20 years, and it's time to redeem yourself with the best damn blueberry pancakes. The buttermilk makes them extra fluffy, and the sweet, crunchy streusel looks impressive, but I promise it's easy enough to make early in the morning.
Just don't trip this year. Also, don't let her near the dishes.
Tony Biancosino/Thrillist
The Best Blueberry Pancakes Recipe
Total Time: 35-45 minutes
Yield: 4 servings (12 pancakes)
INGREDIENTS:
1/2 cup old-fashioned oats
1/4 cup all-purpose flour
2 tablespoons dried blueberries
2 tablespoons light brown sugar
4 tablespoons (1/2 stick) unsalted butter, melted
2 cups all-purpose flour
1/4 cup sugar
2 teaspoons baking powder
1 teaspoon baking soda
1 teaspoon kosher salt
2 large eggs
3 cups buttermilk
4 tablespoons (1/2 stick) unsalted butter, melted
Vegetable oil for greasing the griddle
2 cups fresh blueberries
1 cup pure maple syrup, for serving
DIRECTIONS:
Preheat oven to 350°F. Combine oats, flour, dried blueberries, and brown sugar on a small rimmed baking sheet; drizzle with butter and toss to coat. Bake, stirring occasionally, until toasted and browned, about 15 minutes. Let cool. 
To make the pancake batter, whisk flour, sugar, baking powder, baking soda, and salt in a large bowl. Whisk eggs, buttermilk, and butter in a liquid measuring cup; pour into dry ingredients and mix until just combined. Lumps are good!
Heat a large griddle to 350°F or a nonstick skillet over medium heat and lightly coat with oil. Working in batches, pour heaping 1/4 cupfuls of batter onto griddle and top each with 5-6 blueberries. Cook pancakes until bottoms are golden brown. A good indication they're ready to flip is when edges are dry and bubbles burst on top, leaving tiny craters, about 3-5 minutes. Flip and cook about 2 minutes longer.
Serve pancakes topped with syrup and streusel.