The Best Damn Wine-Spiked Chocolate Fondue Recipe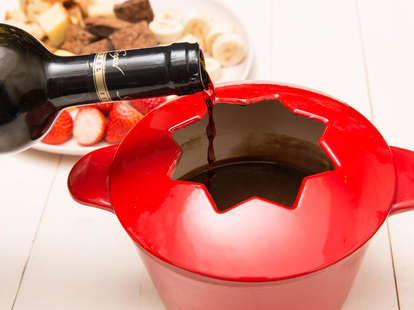 There's something incredibly sexy about melted chocolate. Maybe it's the way it flows, like satin sheets. Or the way it slowly and sensually embraces everything it touches. Perhaps it's because eating it invariably means licking. Lots of licking.
All of these are good enough reasons to serve your lover chocolate fondue. Add red wine into the mix and who knows where the night will take you. Maybe nowhere but at least you gave it a good shot, pal.
Cocoa vin recipe
Total Time: 15 minutes
Yield: 2-4 servings
INGREDIENTS:
1 cup heavy cream
2 tablespoons unsalted butter
1 teaspoon pure vanilla extract
12 ounces bittersweet baking chocolate, chopped
¼ cup red wine
Fresh fruit, pound cake, and brownies for serving
DIRECTIONS:
In a medium saucepan, combine cream, butter, and vanilla. Heat over medium heat until the mixture simmers. Remove from heat; stir in the chocolate and wine until completely melted and smooth.
Serve over a heat source that will keep the fondue warm, but not hot.
Skewer fruit and cakes and dip into the warm chocolate.
Sign up here for our daily Thrillist email, and get your fix of the best in food/drink/fun.
Perry Santanachote is Thrillist's recipes editor and wants a chocolate fountain for Valentine's Day. Follow her at @perrysant.