The Only Bloody Mary Recipe You Will Ever Need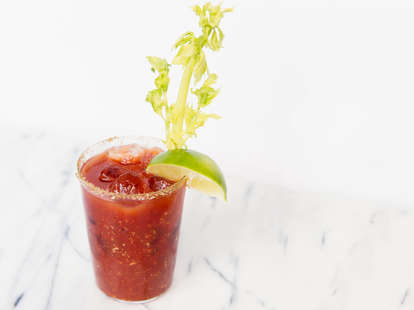 There are all kinds of questionable hangover remedies out there -- coffee, sex, aspirin -- but only one has proven itself worthy in my book: the Bloody Mary.
The nourishing, savory cocktail enlivened with spices and citrus gets me back in partying shape like nothing else. The key is to use good-quality tomato juice (the thicker, the better), and let the ingredients marinate overnight. The resulting drink has the ideal balance of tang and heat, and has gotten me and my friends through many rough weekend mornings. It's basically the liquid equivalent of a best friend who shows up on Saturday to yell at you to rally and get out of bed, while also shoving Powerade and a restorative SEC bagel in your face. But this is better because you don't have to talk back to a drink.
The Best Bloody Mary Recipe
Total Time: Overnight
Yield: 6 servings
INGREDIENTS:
24 ounces tomato juice
6 tablespoons prepared horseradish
2 tablespoons Worcestershire
12 dashes Tabasco
1 teaspoon salt
1 teaspoon celery salt, plus more for serving
½ teaspoon celery seed
Juice from 1 lemon
2 tablespoons olive brine (from a jar of green olives)
1 teaspoon ground black pepper
6 celery stalks, trimmed
2 limes, sliced into 12 wedges
18 green olives
12 ounces vodka
DIRECTIONS:
In a quart-sized container, add tomato juice, horseradish, Worcestershire, Tabasco, salt, celery salt, celery seed, lemon juice, olive brine, and black pepper. Cover and refrigerate overnight.
Pour some celery salt onto a small plate. Rub the juicy side of a lime wedge along the lip of a tall glass. Roll the outer edge of the glass in celery salt until fully coated.
Fill with ice, add 2 ounces of vodka and 4 ounces of Bloody Mary mix. Garnish with a celery stalk, 3 olives, and lime wedges. Repeat!