Three Ways to Get Creative With the Grill This Summer
Welcome to Grillist, our annual celebration of all things smoke and fire. Join us all summer long as we get up in your grill with expert BBQ advice, insightful interviews, and bad grilling puns -- but mostly those first two.
So you've perfected burgers and barbecue ribs, but now what? Grilling 101 is cool and all, by why not challenge yourself -- and your grill -- this summer with some "Wait, you made that on a grill?" recipes. Throw a 2-pound slab of beef on there and wonder why you ever made sliders any other way. Toss that watermelon on the grates and slice it into fries for juicy crunch meets smoky sweetness. And update the old grilled-corn standby with bacon for a serious upgrade from butter; The fat oozes in between those kernels, plus you get charred bacon with every bite. Fire. It. Up.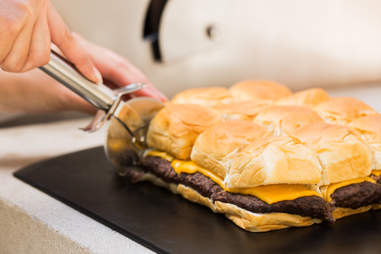 Drew Swantak/Thrillist
Easiest Grilled Sliders Recipe
Total Time: 25 minutes (plus 1 hour chill time)
Yield: 12 sliders
INGREDIENTS:
2 pounds 80% lean ground chuck
Salt and freshly ground pepper
6 slices American cheese
12 slider buns or dinner rolls
DIRECTIONS:
Place beef in a gallon-size Ziploc bag and roll it out with a rolling pin until ¼-inch thick.
Cut along the side seams of the bag and generously season meat with salt and pepper. Use the bag to flip the meat over, and season the other side. Cover it back up and refrigerate for 1 hour.
Oil the grill racks. Preheat your grill using all burners set to high and with the lid closed for 10 to 12 minutes.
Peel open one side of the Ziploc bag. Using a pizza peel or two large metal spatulas, flip the meat onto the grill. Quickly peel off the other side of the bag.
Cover and cook until the top side of the beef starts to bleed and the bottom is brown and crusted, about 3 minutes. Flip the meat and top it with cheese slices; cover and cook until cheese melts, about 2-3 minutes.
Toast the buns if you want, then transfer the meat onto the bottom buns (leave them attached to each other). Place the top buns over the cheese. Use a pizza cutter to divide the sliders: 12 sliders in 5 quick slices.
Serve with your favorite condiments and toppings.
Drew Swantak/Thrillist
Grilled Watermelon Fries Recipe
Total Time: 20 minutes
Yield: 6-8 servings
INGREDIENTS:
1 seedless watermelon
1 tablespoon canola oil
1 teaspoon sea salt
Plain yogurt for dipping
Fresh mint leaves, chopped, for garnish
DIRECTIONS:
Preheat grill to medium with the cover closed for 10 minutes.
Slice watermelon into 1-inch thick discs. Brush each side with oil and sprinkle with sea salt. Place discs on the grill and cook until the bottoms soften, about 5 minutes. Flip and cook for another 5 minutes.
Remove from heat and let cool. Slice the discs into half moons, then cut each moon crosswise into sticks. Leave the rind on to give you something to grab onto.
Garnish with mint and serve with yogurt.
Drew Swantak/Thrillist
Bacon-Wrapped Corn on the Cob
Total Time: 25 minutes
Yield: 6 cobs
INGREDIENTS:
6 ears corn, shucked
1 pound bacon strips
DIRECTIONS:
Preheat the grill to medium.
Wrap two slices of bacon around each cob and wrap in aluminum foil.
Place corn on the grill, close the cover and grill for 15 minutes, turning every 5 minutes. Remove the foil and cook for another 5 minutes, turning often, until the bacon is crisp.