How to Make IKEA Swedish Meatballs at Home
Besides the super-cheap fjôrdäfløgs, the main reason to visit IKEA is the Swedish meatballs. Copycat expert Todd Wilbur has reverse-engineered the prized recipe for his cookbook, Top Secret Recipes Step-by-Step, out on November 17th. Feel like you're in a furniture store in your own home by following the guide below.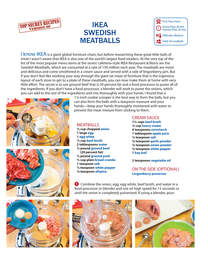 Courtesy of Plume
Courtesy of Plume
Sign up here for our daily Thrillist email, and get your fix of the best in food/drink/fun.