The Internet is rife with food bloggers claiming they've flawlessly recreated your favorite Girl Scout Cookie, or item from the McDonald's drive-thru. Most of those people are liars, but when it comes to copycat recipes, you can trust Todd Wilbur. The man has made a mini-empire out of his Top Secret Recipes cookbooks, which reverse-engineer brand favorites from fast-casual restaurants, fast-food chains, and the grocery store aisles. His latest, Top Secret Recipes Step-by-Step is about to hit bookstores and the web on November 17th.
Wilbur has hundreds of recipes to his name, but we asked him how he created five of his greatest hits: the Chick-fil-A chicken sandwich, Cinnabon cinnamon roll, IKEA Swedish meatballs, Girl Scout Samoa cookies, and the Big Mac. He also was kind enough to share the guides with us. Learn from the maestro below: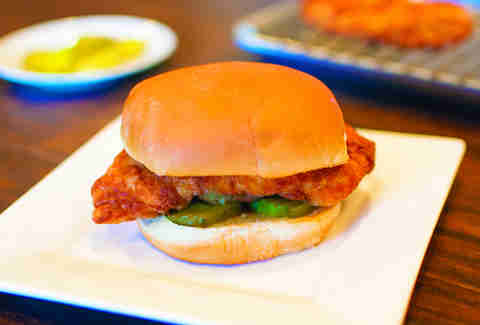 Wilbur: "I'll look for similar recipes -- there are so many out there now. Starting there, and then whittling down. Just sort of knowing through experience what makes things taste a certain way or look a certain way. Sometimes I'll even go through the restaurant's dumpster! Fast food chains now put ingredients on website. So there's a lot of different ways. It's not just about tasting it, it's about gathering a lot of information." Recipe's here.
Wilbur: "Cinnabon was probably one of the hardest. I've been working on that recipe since 1995. So that's been a 20-year project. I first published it in my second book. More recently, when I had a TV show on CMT in 2011, I got to go visit the Cinnabon headquarters in Atlanta. They showed me how to make them, not all the ingredients, but I was right in the test kitchen. I got see how they spread out the dough and everything. I also got to visit the 'Cinnamom,' Jerilyn Brusseau. She's the inventor, a baker in Seattle. The company hired to do this. I got to go to her house and talk to her. She didn't reveal too much, but of course that just proves you can make this stuff right in your kitchen. Because it started in hers." Find the recipe here!
Wilbur: "I'm not really partial to any particular chain. I used to always just do fast-food, grocery stores, and causal chains but I've tried to branch out and cover other places. I just really want to clone what people want to eat." Here's the recipe.
Wilbur: "Girl Scout Samoas is a nice one. It's a bit time-consuming, that recipe, because it makes so many. But it tastes just like it." Click, click, click!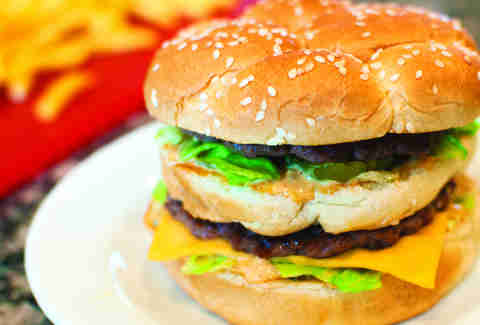 Wilbur: "One of the most searched recipes on my site is the Big Mac because people want to know the special sauce -- that's a recipe I've been working on for 20+ years. That came out in my first book in 1993. People think it's 1,000 Island dressing, but it's not really. It's basically mayo, mustard, paprika. Some garlic and onion powder. But yeah, after all these years, I finally cracked it." Get the recipe!
Sign up here for our daily Thrillist email, and get your fix of the best in food/drink/fun.
Kristin Hunt is a staff writer for Thrillist, and still hasn't had an IKEA Swedish meatball. Follow her to broken Allen wrenches at @kristin_hunt.