Turn Your Thanksgiving Leftovers Into Cranberry-Glazed Pop Tarts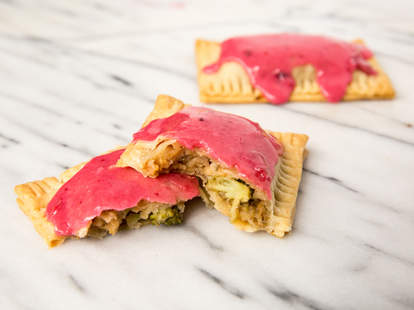 It's the day after Thanksgiving and you're overwhelmed by leftovers. You could just build a soggy stuffing sandwich, but an even better option is to wrap them up in a flaky pastry, simmer down some cranberry sauce, and stuff those savory pop tarts into your face hole like this is 1998 and you just got home from school. Freeze them Friday morning and they'll be ready for the oven by dinnertime!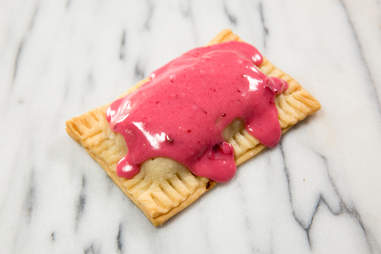 Cole Saladino/Thrillist
Thanksgiving Pop Tarts Recipe
Total Time: 1 hour, plus freezing time
Yield: 8
INGREDIENTS:
2 boxes refrigerated pie crusts (4 crusts)
1 cup Thanksgiving leftovers (shredded turkey, stuffing, gravy, yams, green beans, etc.) mashed together
1 cup fresh cranberries
2 tablespoons granulated sugar
¼ cup water
3 ½ cups powdered sugar
1 ½ teaspoons corn syrup
½ teaspoon vanilla extract
¼ teaspoon salt
DIRECTIONS:
Unroll pie crusts and cut out 16 5x3-inch rectangles. Spoon 2 tablespoons of leftovers down the center of half of them. Top them with remaining rectangles. Using the tines of a fork, press down on the edges to seal them shut. Poke a few holes in the centers of each tart with a toothpick. Cover and freeze for 2 hours.
Preheat oven to 375°F. Bake frozen tarts uncovered until golden, 25 to 30 minutes. Immediately transfer tarts to a wire rack to cool.
In a small saucepan, combine the cranberries, granulated sugar, and water; simmer until jammy, about 8 minutes. Transfer to a mixing bowl. Add powdered sugar, corn syrup, vanilla, and salt. Using an electric mixer, beat at medium speed until smooth. 
Spoon the glaze over the pop tarts and let them sit until glaze hardens, about 10 to 15 minutes.
Sign up here for our daily Thrillist email, and get your fix of the best in food/drink/fun.
Perry Santanachote is Thrillist's recipes editor and is thankful for leftovers. Follow her on Twitter: @perrysant.