"Vuelve à la vida" literally translates to "return to life" in English. While the hangover cure can't literally resuscitate a corpse, its potent combination of seafood, tomato juice, citrus, and chiles has the power to enliven even the crunkest of crunks. I'm pretty sure it works on zombies, too.
This recipe comes from Chef Ivy Stark of Dos Caminos, who insists there's nothing better after a night of imbibing. "It makes you sweat out the toxins, but also rehydrates and refuels the body."
She fondly recalls her time on the beaches of Acapulco, where hangover sufferers don't have to leave their lounge chairs for a fresh Vuelve la Vida. There's a guy who makes the rounds with his tray of seafood and condiments so people can customize their own. And everyone does. EVERY. ONE. 
But since that guy probably doesn't make house calls to the US, you're on your own. May I suggest you prepare the sauce the night before? That way all your hungover self has to do is mix, eat, and repeat.
Recommended Video
Smorgasburg WTC: Send Foodz w/ Timothy DeLaGhetto & David So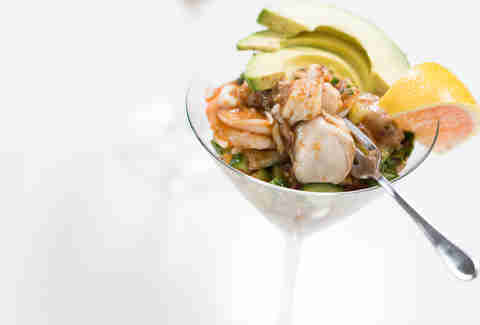 Vuelve la Vida Seafood Cocktail Recipe
Total Time: 15 minutes
Yield:
4 (10-ounce) servings
Ingredients:
1 cup ketchup
3/4 cup tomato juice
1/2 cup clam juice
1/4 cup orange juice
1/4 cup grapefruit juice
2 tablespoons Maggi sauce
1/2 rib of celery, chopped
1 jalapeño, chopped (and seeded if you don't want it too spicy)
1 small shallot, chopped
1 chipotle en adobo
1/2 teaspoon Dijon mustard
Salt and freshly ground black pepper to taste
8 jumbo shrimp, sliced in half
4 ounces jumbo lump crab meat
12 shucked oysters
1 red onion, finely chopped
2 mini seedless cucumbers
1/4 cup chopped cilantro
1 head of romaine lettuce, shredded
1 Hass avocado, peeled, pitted, and sliced
1 pink grapefruit, cut into wedges
Directions:
Puree all sauce ingredients together in a blender until smooth. Adjust seasoning if necessary.
Toss shrimp, crab, oysters, red onion, cucumber, and cilantro in the sauce.
Place shredded lettuce in the bottom of four cocktail glasses. Top with dressed seafood. Garnish with avocado and grapefruit slices.