Similar to February, March doesn't have much in the way of fresh fruits and greenery. But take solace in the knowledge that tired old winter root vegetables are on their way out and soon we'll be ushering in a bounty of fresh spring produce. But until then, stick to March's basics because in-season stuff just tastes better and costs less.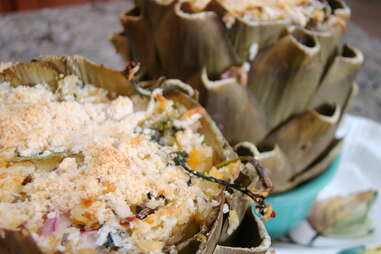 Artichoke
American-grown artichokes are almost 100% Californian, and they are just coming into season in March. Boil 'em with a little bit of vinegar or lemon to prevent discoloration, then stuff, fry, or use them as a vehicle for clarified butter.

Asparagus
Eat the fatter, more tender ones on the same day you buy them, as they get funky pretty fast after they've been picked.

It tastes like a bitter carrot and is particularly delicious in cheddar beer soup.
Cabbage
Choose one that's heavy for its size because that indicates it's not dried out. However, it's still as boring as it was last month.

It looks like ginger, tastes like artichoke, and has the consistency of a potato. Learn this vegetable. Love this vegetable. Eat this vegetable in tacos.

Chives
Add them at the end of a recipe to preserve the subtle flavor.

Dandelion greens
They're extremely high in calcium, iron, and protein, which is a lot coming from what is ostensibly a weed.
Endive
Chop them thin and add blue cheese and walnuts for a surprisingly delicious salad.

Horseradish
This lil' root veggie pretty much only exists for cocktail sauce. Now's the time to make your own and store it up for the rest of the year.

It's only in season for a month or two more, but considering how effing trendy this green stuff is, it's definitely available all year round. Which means you'll be able to make brown butter kale lobster pasta whenever you want.
Rhubarb
Stew 'em up with some sugar and add them to a strawberry (not in season) pie because these stalks are quite bitter otherwise. Just be careful if you're picking your own, because it can get nasty out there.

Leeks
A subtler onion, this stalk is commonly available year-round, but is particularly well used when paired with potatoes for winter soups.

Brussels sprouts
Roast them. Always, always roast them.

Butternut squash
Although not exactly in season, it's still available from the fall harvest. Eat this sweet winter squash up quick because this is the last you'll see of them until at least September.
Arugula
Peak season for this spicy leaf is early spring and fall, so hold out until the middle of the month for best flavor. And then put it on all the pizzas.

Potatoes
There are lots of these guys in storage year-round, so throw some in the Crock-Pot that caused your divorce with a whole chicken for an easy winter dinner.

Parsnips
With its spicy, cinnamon-y flavor, this root vegetable was used as sweetener in Europe before sugar was a thing. Now they just make damn good soups.
Carrie Dennis is an associate editor for Thrillist and arugula is her favorite leafy green. Follow her on Twitter: @CarrrieDennnis.