Here's What to Do With All Your Thanksgiving Leftovers
Those turkey scraps aren't going to assemble themselves into a sandwich.
Anthony Humphreys/Thrillist
Turkey, gravy, mashed potatoes, stuffing, pie: many a Thanksgiving dinner table has seen these staples, which means these staple leftovers abound. So, to answer the inevitable question, "What the heck do I do with all this food?" we enlisted chef Will Horowitz of Ducks Eatery in New York City to come up with lip-smacking answers...in the form of recipes that use some, or all, of the deliciousness that would otherwise languish in that fridge.
Potato clam chowder with charred leeks, tarragon, and sherry vinegar
Serves 4-6 people
Ingredients
1 ½ cups of leftover mashed potatoes
6 tablespoons of sour cream or crème fraîche
2 whole leeks
2 dozen cherrystone or quahog clams
1 tablespoon of white pepper
2 cups of chicken stock
½ cup heavy cream
3-4 ounces of sherry
1 bunch of tarragon, cleaned & rough chopped
1 head of garlic, roasted
1 ½ teaspoons of cayenne
1 tablespoon of olive oil
Directions
1. In a medium sauce pot, gently heat up mashed potatoes while mixing in roasted garlic. Once warm, gently whisk in chicken stock. Bring to simmer and whisk in cream, peppercorn & cayenne. Allow to simmer over medium heat until lightly reduced. Season with salt to taste.
2. Trim root and green off of leak, toss in olive oil, and season lightly with salt. Heat up sauté pan on medium high. Place leeks in pan, sauté until golden brown, if not charred and almost blackened. Once done, place in bowl off heat and cover tightly in plastic wrap to allow it to steep for 10 minutes. Rough chop and reserve to side.
3. Clean clams well, removing any debris attached to them. Cover the clams in cold tap water and allow to soak for twenty minutes, then drain and lightly rinse. This will allow them to filter out most of the sand inside them. In a large sauté pan, place the clams inside and fill with fresh tap water just until clams are just barely submerged. Cook on medium high and remove clams once opened. Remove and roughly chop clam meat.
4. Add clams and leeks to soup, allow to simmer for 5-10 minutes. Taste and season with salt if needed. Ladle soup into individual bowls and garnish each with a dollop of crème fraîche, a generous amount of chopped tarragon, and drizzle on sherry vinegar.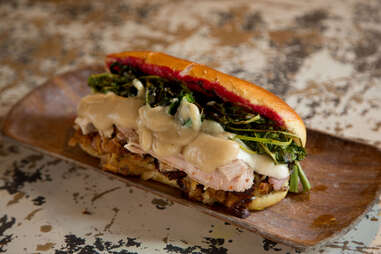 Roast turkey sandwich on brioche with roasted mushroom gravy, stuffing, broccoli rabe, mozzarella, and a cranberry chili paste
Serves 5 people
Ingredients
1 ½ pounds of leftover roasted turkey
1 cup leftover gravy
1 pound leftover stuffing
4 ounces mushrooms (maitake or shitake)
½ cup leftover cranberry sauce
3 tablespoons of Sriracha or similar chili paste
1 bunch of fresh flat-leaf parsley, cleaned and picked
6 ounces of smoked mozzarella, thinly sliced
½ pound of broccoli rabe, cleaned
4 cloves of fresh garlic, rough chopped
4 tablespoons of olive oil
5 long brioche buns
Directions
1. Clean mushrooms and sauté with 1 tablespoon of oil at high heat until roasted in color and soft enough to eat. Season with salt, cool, and rough chop. Place in food processor, pour in leftover gravy, and blend for 2 minutes until mixed well. Pour into small saucepan and gently heat up. Season with salt to taste.
2. Chop broccoli rabe into medium 2-3 inch pieces. Heat 1 tablespoon of oil in a sauté pan on medium hot heat for 3-5 minutes. Place broccoli rabe on pan, season with pinch of salt. Allow to cook for 3-4 minutes until they begin to char. Mix and add in garlic. Sauté for another 3-4 minutes, then remove from heat and allow to rest on plate. In same pan, add rest of oil. Once oil is hot, add in turkey and stuffing. Sauté until lightly browned and hot. Mix in gravy and allow to sit on low heat.
3. In a small mixing bowl, whisk together cranberry sauce and Sriracha until smooth and set aside.
4. Slice open brioche bun, leaving one side attached. Lightly toast bread in oven for 2-3 minutes. Spread cranberry sauce on top bun. Place generous amount of turkey stuffing and gravy mixture into each sandwich, cover with cheese and place back into oven for 2-3 minutes. Remove from oven and in layers add even amounts of the broccoli rabe and a handful of fresh parsley on top. Serve hot!
Hush puppies with lemon, black garlic, gravy, and chives
Serves 4-6 people
Ingredients
3 cups of leftover stuffing
½ cup of leftover gravy
1 lemon
1 bunch of fresh chives, chopped
4 cloves of black garlic
¼ cup of sour cream
½ dozen large eggs
1 pound of all-purpose flour
1 pound of corn meal
½ gallon of canola oil
Directions
1. Bring stuffing up to room temperature. Crack open two eggs into small mixing bowl, whisk together yolk and egg whites until smooth. Pour and mix into stuffing. Roll out stuffing into small 2-2 ½ inch balls.
2. In sauce pot, pour canola oil and heat to 350 degrees Fahrenheit. In three separate bowls place flour in one, whisk together the rest of the eggs in another, and place your cornmeal in the third. Drop them into flour, tossing lightly. Remove from flour and dip into egg mixture until fully submerged. Remove from egg mixture and dredge through cornmeal until fully coated. Shake off excess cornmeal and gently place into hot oil. Fry until golden brown then remove, place on napkin to drain and season well with kosher salt.
3. In a medium-mixing bowl, whisk together room temperature leftover gravy with, zest and juice from one lemon and sour cream. Pound black garlic into paste and mix in with sour cream gravy mixture. Season with salt to taste.
4. Serve fried hushpuppies with side bowl of sauce. Garnish with fresh chives on top.
Curried pumpkin gravy over smoked pork chops with cilantro and lime
Serves 4 people
Ingredients
4 medium size fresh pork chops, bone in
1 ½ cups of leftover gravy
½ pounds of leftover pumpkin pie
2 fresh limes
1 bunch of fresh cilantro, cleaned & chopped
2 tablespoons of yellow golden or Massaman curry
½ cup of dry white wine
3 tablespoons of butter, unsalted
2 teaspoons of cayenne, ground
Directions
1. Scoop out meat from pumpkin pie discarding crust. Place in sauce pot, turn to medium heat, and whisk in gravy, curry, and white wine. Bring to simmer, cook for 10 minutes or until thick and bring down to low and keep warm.
2. On grill, light handful of coal and place to one side of grill. On opposite side, place pork chops and season well with salt. If accessible, place small amounts of bbq wood chips and cover, preferably hickory, over coals and slowly smoke pork at very low heat for 20-30 minutes keeping the meat rare. After, take off heat, set aside, and place more coals on grill until hot. Slice limes in half and place flesh side down on grill. Grill limes for 4-6 minutes or until nicely charred.
3. In large sauté pan, heat up butter until hot over medium high heat. Place pork chops on pan. Cook and baste for 5-7 minutes on each side or until golden brown on outside, leaving the center medium to medium rare. Pour over pumpkin gravy and garnish with charred lime and fresh cilantro to serve.
Thanksgiving Leftover Poutine
Serves 4-6 people
Ingredients
1 cup leftover gravy
2 ½ pounds of French fries
¼ cup of leftover cranberry sauce
1 pound of leftover roasted turkey, chopped
2 tablespoons of malt vinegar
1 ½ pounds of cheese curd or "squeaky" cheese
¼ pound of smoked Benton's bacon, cooked and chopped
2 radishes
1 bunch of fresh sage, cleaned and picked
Directions
1. In a small sauce pot, heat up gravy and add in chopped turkey and malt vinegar. Bring to simmer, turn off heat, and season with salt to taste.
2. In cast iron pan, place cooked and crispy French fries. Pour over gravy just on top. Sprinkle over chopped bacon and an even amount of cheese curds. Place in oven under broiler for 6-8 minutes or until cheese has melted and charred. Remove from oven. To serve, place hot cast iron on table on heat pad or towel. Slice radish and sage into paper-thin slices and generously garnish dish. Lightly drizzle warm cranberry sauce on top to finish.
Sign up here for our daily Thrillist email and subscribe here for our YouTube channel to get your fix of the best in food/drink/fun.