This Whiskey Caramel Apple Recipe Is Absurdly Delicious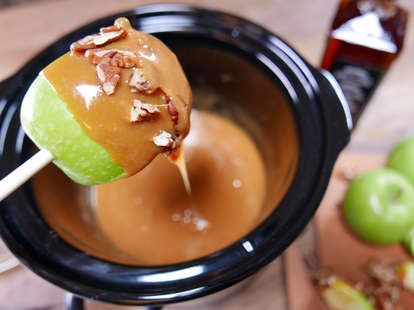 Perry Santanachote/Thrillist
Whiskey Caramel Apples Recipe
Total Time: 1 hourYield: 4-6 servings
Ingredients:
1 pound caramels
¼ cup whiskey
4-6 apples
Fresh lemon juice (optional)
1 cup chopped pecans
Directions:
Combine caramels and whiskey in a slow cooker and set it to low heat. Stir occasionally until melted, about 1 hour. Reduce heat to "warm."
Slice apples into chunks and skewer them with wooden sticks (spritz them with a little lemon juice to prevent browning). Pour pecans into a serving dish for easy dipping.
Serve immediately... or not... since the slow cooker will keep the whiskey caramel sauce warm indefinitely.