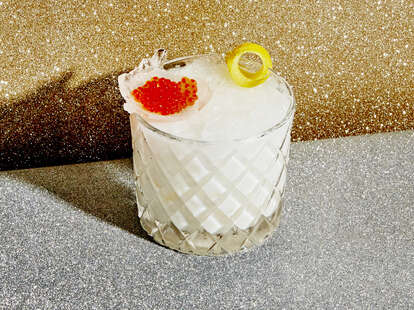 Matthew Kelly / Supercall
We challenged bartender Anthony Bohlinger of Seamstress and Maison Premier to create the ultimate (affordable) caviar cocktail. "I wanted to create a cocktail with an exciting and interesting flavor combination that's simple enough for anyone to make," he says. "Fish roe and a clean vodka is already an amazing pairing, so I upgraded it even further with notes of chocolate for an all-around luxurious drink." Chocolate and fish roe may sound like a strange combination, but vodka, along with a couple dashes of saline, helps bridge the gap between sweet chocolate liqueur and salty roe. It's a salty-sweet libation that's hard to resist. Serve it to your party guests and watch their jaws hit the floor.
Roe Your Boat
INGREDIENTS
1.5 oz

Vodka

.25 oz

Cacao Blanc

.25 oz

Chocolate Liqueur

2 dashes

Saline solution

Roe

Lemon twist
INSTRUCTIONS
Step one
Add vodka, cacao blanc, white chocolate liqueur and saline to an old-fashioned glass.
Step two
Fill halfway with pebble or crushed ice and swizzle for eight seconds.
Step three
Pack the remainder of the glass with ice until it forms a mound, then pack it down.
Step four
To make the ice bowl, fill the large cavity of a handheld citrus juicer with pebble ice. Compress the juicer to create a small bowl of ice. Remove the makeshift bowl from the juicer.
Step five
Place the ice bowl on top of the cocktail and fill with roe. Garnish the cocktail with a lemon twist.
Contributed by Anthony Bohlinger