NYC Chefs Share Their Best 5-Ingredient Recipes You Can Easily Make in Your Apartment
It's a Saturday night, and you're trying to figure out what to do for dinner. Getting a table for two at Pasquale Jones, Lilia, or Roberta's is about as likely as finding a rent-controlled apartment in Williamsburg. But that doesn't mean you have to resort to yet another night sitting on your couch with disappointing delivery pad Thai. Instead, why not make a restaurant-caliber dinner at home with these easy, five-ingredient recipes, straight from NYC's top chefs? From appetizers you can put together in under 10 minutes, like High Street on Hudson chef Eli Kulp's burrata, tomato, basil & honey number, to elevated breakfast options like Cronut maestro Dominique Ansel's perfect scrambled eggs.
Mozzarella, toasted garlic bread & bottarga
"I make a house-made mozzarella at Lilia that's the perfect balance of salty, rich, and creamy. I place it upon toasted garlic bread and top it off with bottarga, creating a simple yet crave-worthy dish." -
Missy Robbins, chef/owner at Lilia
INGREDIENTS:
1 pound fresh mozzarella cheese, sliced into 12 slices, room temperature
4 1-inch thick slices rustic crusty bread
4 tablespoons softened butter
2 cloves garlic
1 lobe bottarga
DIRECTIONS:
Heat an oven to 450 degrees.
Spread butter on the bread.
Toast until golden brown.
Remove from oven.
Place the mozzarella on the bread.
Grate bottarga over the mozzarella with a microplane.
Charred cauliflower with blood orange, hot pepper & mint
"The inspiration and vision for this dish came from chef Tim Caspare's menu testing and our seasonal conversations. He and the sous chefs at Pasquale Jones tried 20 different versions to perfect this salad! The combination, though, is a classic set of citrus and cauliflower that goes back to the roots of Southern Italian cuisine. It's a seasonal favorite that fits perfectly in our smoke-filled wood-fired ovens." -
Ryan Hardy, executive chef at Pasquale Jones
INGREDIENTS:
1 head of cauliflower
1 head of fennel
3 blood oranges
2 sprigs of mint
1 teaspoon of Calabrian chile oil
DIRECTIONS:
At the restaurant, the kitchen roasts the head of cauliflower whole, in a 750° F wood-burning oven, allowing it to char quickly without overcooking. In the home kitchen, you could sear the cauliflower in a very hot cast-iron pan, or otherwise break the cauliflower head down to quarters and roast under a broiler.
Slice fennel thinly; remove the top and bottoms from the oranges; slice across the equator to create "pinwheels" and reserve.
In a large mixing bowl, place the cauliflower, fennel, mint leaves, and blood oranges, season with a pinch of Maldon salt and a touch of Calabrian chili oil.
Arrange on a plate, and finish with the juice of half a lemon, a drizzle of extra virgin olive oil, and if desired, additional hot pepper.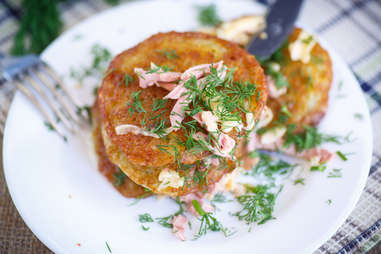 Potato pancakes
"Potato pancakes, bacon, and blood pudding was a typical school lunch in the cafeteria. Back then, I wasn't a big fan of the blood pudding, so I always got a double portion of the pancakes and so I grew up eating a lot of it! The pancake has been such a memorable flavor that I've come to love and be comforted by over the years. I'd say bacon and potato are two of my favorite ingredients to cook with at home."
- Emma Bengtsson, executive chef at Aquavit
INGREDIENTS:
2 eggs
1 ounce flour
3 ounces buttermilk
9.7 ounces grated potato
8 ounces bacon
DIRECTIONS:
Whisk eggs and flour together. Add buttermilk.
Fold in potato and season with salt.
Fry bacon, and save the fat.
Heat up a pan with the bacon fat and sear potato pancake until golden brown.
Serve with lingonberry or apple compote.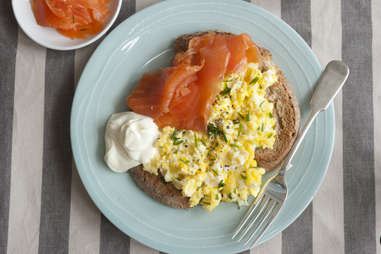 Soft scrambled eggs with crème fraîche and chives
"There's something so simple and satisfying about scrambled eggs -- but perfect scrambled eggs are hard to master. It's about cooking it low and slow, and folding in crème fraîche keeps it super-light and really fluffy and smooth. And always with a hunk of crusty bread, toasted and buttered."
- Dominique Ansel, chef/owner at Dominique Ansel Bakery & Dominique Ansel Kitchen
INGREDIENTS:
3 eggs
Shallots, thinly diced
Chives, chopped
Crème fraîche
Baguette
DIRECTIONS:
In a medium pan, sauté the shallots in butter until translucent.
Beat eggs in a bowl and season with salt and pepper.
Turn heat to low, pour the eggs into the pan with the shallots and cook slowly over low heat while continuously stirring gently with a wooden spatula.
You'll see the eggs are gradually getting thicker but are still creamy and fluffy.
Add a large spoonful of creme fraiche to the pan.
Continue stirring gently until incorporated, then remove pan from the heat.
Serve immediately on buttered toasted bread with a sprinkle of chives on top.
Grilled foie gras with spicy pomegranate seeds
"This dish might be only five ingredients, but it's packed with flavor. The foie gras lends a rich, buttery taste, while the churan adds a zest from the ginger, turmeric, and coriander. Together the unexpected combination works very well together." -
Manish Mehrotra, chef at Indian Accent
INGREDIENTS:
½ teaspoon anardana churan powder
90 grams foie gras, sliced
½ teaspoon crushed black pepper
Maldon salt to taste
1 tablespoon fresh pomegranate pearls
DIRECTIONS:
Give light gashes to both sides of the foie gras.
Sprinkle salt and pepper on it.
Heat a non-stick pan. When it's very hot, place the foie gras and sear on both sides until it turns a bit crusty. Sprinkle more salt and pepper if you prefer.
Place the seared foie gras on a platter.
Sprinkle powdered anardana churan and fresh pomegranate pearls on top. Optional: Garnish with cress. Serve.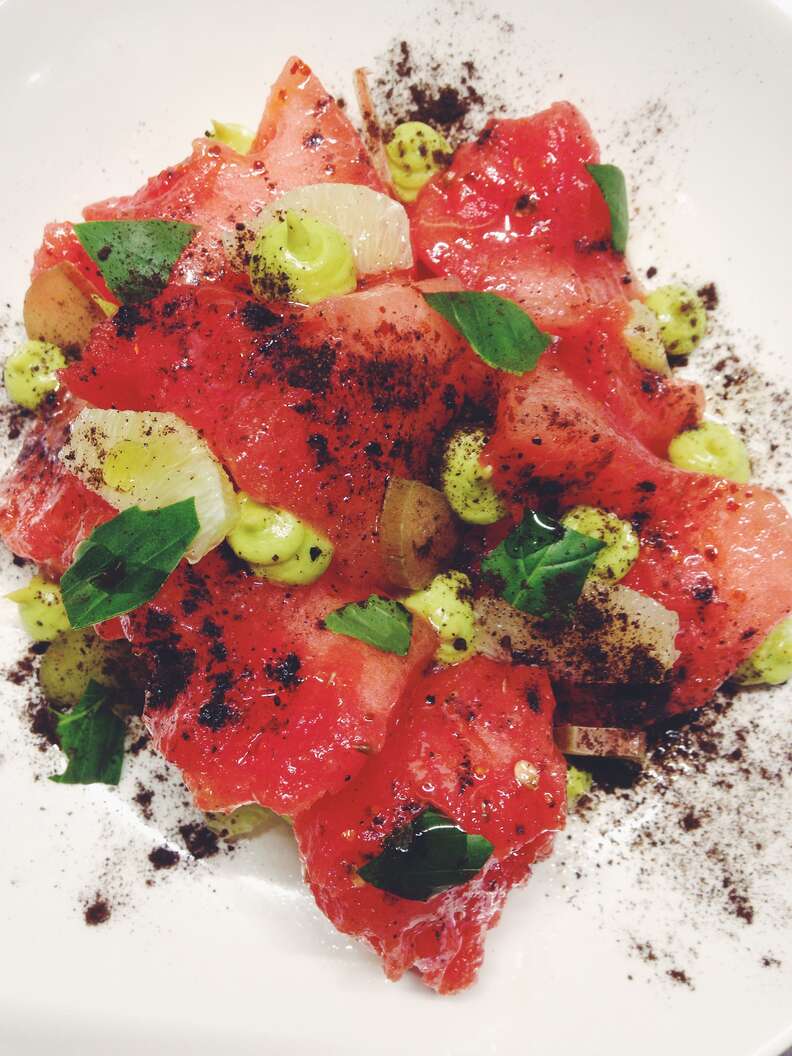 Watermelon, rhubarb, and avocado salad
"We wanted to come up with something that was nice and refreshing in the summer but also had a bit of depth, nice levels of acidity, and both textural and temperature contrasts. The avocado adds a nice bit of depth, the rhubarb gives some acid and textural contrast, the basil helps add some floral notes, and the black lime helps round out the the acid and contrasts nicely with the ice-cold watermelon. -
Carlo Mirarchi, chef/co-owner at Blanca and Roberta's
INGREDIENTS:
1 watermelon
1 avocado
Handful of basil
Black lime
Several stalks of rhubarb
DIRECTIONS:
Carve your watermelon into oblong shapes, until you have about a cup's worth, and put pieces in the freezer. (Tip: Make sure to buy your watermelon when it's fully ripe -- once picked, watermelons won't continue ripening off the vine like other fruits do.)
Scoop out the insides of the avocado into a bowl. Season with lime juice, salt, and olive oil.
Mash into a paste, then pass through a fine sieve or chinois strainer, if you have one.
Slice rhubarb into quarter-inch pieces. Season with salt and sugar and let pieces macerate.
Place your frozen watermelon and macerated rhubarb pieces into a chilled bowl and dress in olive oil and lime juice.
Dot 4 or 5 dollops of the avocado paste around the mixture. Top with basil. Break up the black lime into pieces.
Grate over the salad, and finish with a final drizzle of olive oil.
Guacamole
"Everyone loves guacamole and it's a perfect dish to get the party, or shall I say fiesta, going! It's rich, creamy, and delicious and goes great with warm tortilla chips and some fresh salsa. I also like serving with some chilled shrimp cocktail as well."
- Josh Capon, executive chef and partner at Lure Fishbar, B&B Winepub, El Toro Blanco, and Bowery Meat Company
INGREDIENTS:
2 ripe Avocados
1 jalapeño seeded and diced
1 small white onion diced
4 sprigs fresh cilantro chopped
1 lemon juiced
DIRECTIONS:
Mash the jalapeño, white onion, cilantro, salt & lemon juice together in a mojacate or mixing bowl, fold in the avocado and mix till chunky. 
Season with salt and serve with warm tortilla chips. (Optional: add diced tomatoes.)
Grilled toast with burrata, heirloom tomatoes, basil & honey
"Simple, great summer flavors to enjoy amongst friends. Easy to prepare and always delicious when the ingredients are great." -
Eli Kulp, chef/co-owner at High Street on Hudson
INGREDIENTS:
4 thick slices of country sourdough bread
1 large, ripe heirloom tomato, cut into ¼-inch slices
8 ounces quality burrata
2 ounces orange blossom honey
8 pieces of basil leaves
DIRECTIONS:
Put some olive oil and salt and pepper on the bread.
Grill the bread until nice and charred on the outside but still soft on the inside. (If no grill, use the broil setting on the oven and place bread close so it gets nice and toasted.)
Lay tomato slices on the bread.
With a spoon, break up the burrata into chunks and place over the tomato.
Drizzle the orange blossom honey over the cheese and finish by garnishing with the basil leaves and a flaked sea salt.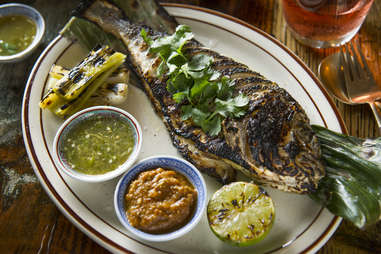 Bonus 6-ingredient recipe: Nam Prik Talay (seafood dipping sauce)
"Five ingredients is tough with Thai food. Six ingredients is the closest I could get. This is great served with any grilled seafood -- fish, shrimp, blowfish tails, etc." -
Ann Redding, chef/co-owner at Uncle Boons
INGREDIENTS:
1/2 ounce garlic, blanched
1 ounce cilantro roots & stems
1 ounce green Thai bird chiles
1 ounce palm sugar
3/4 cup lime juice
1/4 cup fish sauce
DIRECTIONS:
Put first four ingredients in food processor.
Pulse until fine but not a paste.
Put mixture in mixing bowl. Add last lime juice and fish sauce.
Whisk well.
Sign up here for our daily NYC email and be the first to get all the food/drink/fun New York has to offer.