Since opening in the East Village last spring, Oiji, the tiny Korean spot from two Seoul restaurant-scene vets, has been one of the hardest reservations to get in NYC. The main reason? The insane honey butter chips -- Chefs/co-owners Brian Kim and TK Ku's play on a popular Korean snack food. So we stopped by the restaurant to have the chefs show us how they make them (and the secret menu item, honey butter chips with ice cream!). AND we got the recipe, so you can make those glistening pieces of heaven for yourself at home.
Recommended Video
You've Been Waiting Your Whole Life to Face San Diego's The Kraken Burger
Oiji's honey butter chips
Total Time: 6-10 hours to soak potatoes, 30 minutes to cook
Ingredients:
For chips:
4 medium-sized baking potatoes
Premium oil for frying
For honey emulsion:
1/6 tsp. ground cayenne pepper
1/2 cup honey
1/4 cup rich butter (high percentage of milk fat)
2 tbsp. brown sugar
Salt to taste
Directions:
Peel the potatoes and then slice very thinly with a mandoline. Make sure to keep the thickness the same for each slice to ensure even frying.
Soak the potato slices in water for 6-10 hours. This helps loosen the starch and will keep the slices from sticking to each other when frying.
Rinse the slices in running water to remove excess starch and then dry the slices completely on a paper towel. Make sure all water is removed.
Heat oil in a deep fryer or deep skillet to 325 degrees. Add the slices to the oil and working batches to keep frying equal. Do not overcrowd your chips. Fry them, turning if needed, until each is a crispy, golden brown.
Remove them from the oil; drain and cool them.
In a saucepan, combine the honey, cayenne, butter, and brown sugar over medium heat, whisking to combine. Once the mixture is warm, melted, and fully combined, drizzle it over the chips evenly and toss them lightly to fully coat. Serve immediately.
Previous Venue
Next Venue
Venue Description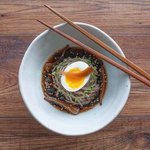 1. Oiji
119 1st Ave, New York, NY 10003
From two Seoul restaurant scene vets, this intimate East Village spot serves seriously impressive Korean fare. The small plates formats means you can try a little bit of everything, like warm honey butter chips and slow-cooked oxtail and pork belly. You won't really know what you're eating but you won't care because it's so good.