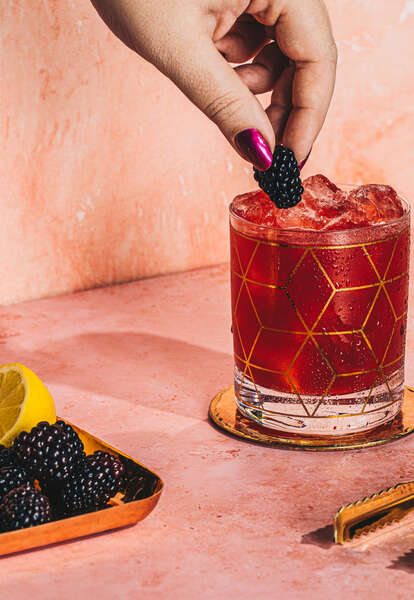 Photo by Cole Saladino for Thrillist. Photo Assistant: Mitchell Mylius. Food Stylist: Micah Morton with Big Leo. Food Stylist Assistant: Terrance Harvey.
The New York Sour is what happens when a Whiskey Sour sneaks into the wine cellar. It's essentially a Rye Whiskey Sour topped with a float of red wine; one of those rare feats of mixology magic that actually tastes as good as it looks. Ironically, the New York Sour does not hail from New York, but Chicago. First created in the 1880s by a Chicago bartender looking to add a little snap to his sour, it originally went by the name of Southern Whiskey Sour or Continental Sour. The cocktail found fame in New York during Prohibition, and the city claimed it as its own. Strong as it is, this darkly fruity drink is great during brunch hours when the midday sun accentuates its beautiful hues.
For a fresh take on the classic, we tapped Shae Minnillo, a bartender at Manolito in New Orleans. "Tart berries go well when making a shrub to pair with a nice whiskey in bracing colder weather. With or without an egg white, this blackberry shrub will make for a nuanced take on the classic," he says of his creation.
New York Sour
INGREDIENTS
2 ounces

Whiskey

¾ ounces

Lemon Juice

¾ ounces

Blackberry Shrub

1 bottle

Light-bodied Red White

½ quart

Red Wine Vinegar

½ quart

White Sugar

1 pint

Blackberries
INSTRUCTIONS
Step one
Shake the whiskey, lemon juice, and shrub syrup with ice.
Step two
Strain into a double old-fashioned glass and fill with fresh ice.
Step three
Blackberry Shrub recipe: (1) Gently macerate and stir at low heat until sugar dissolves (2) Take off heat, add a grip of mint, steep for 15 minutes, then fine strain.
Recipe provided by Shae Minnillo