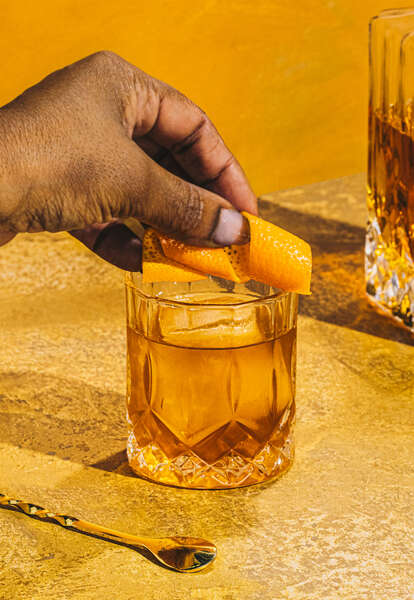 Photo by Cole Saladino for Thrillist. Photo Assistant: Mitchell Mylius. Food Stylist: Micah Morton with Big Leo. Food Stylist Assistant: Terrance Harvey.
​​In 1948, a New York tax-attorney-turned-cocktail-whiz published The Fine Art of Mixing Drinks, which remains an indispensable bartending guide to this day. Its author, David A. Embury, held that six cocktails reign above all others, and perched atop his list is the Old Fashioned, a marvel of simplicity and elegance that has endured almost as long as these United States. For the better part of the 19th and 20th centuries, the Old Fashioned was perhaps the most fashionable drink being imbibed. By the 1990s, however, it had all but disappeared, as the masses fell under the siren spell of frothy, fruity cocktails like the Cosmopolitan. Fortunately, by the early 2000s, the Old Fashioned had been restored to its rightful place at the top of the list.
For a modern take on this classic cocktail, we turned to Shae Minnillo, a bartender at Manolito in New Orleans​. "An Old Fashioned is something of a conversation between drink and drinker. Be sure to stir lightly so that the cocktail doesn't lose character; it's meant to sit with you for a while and retain your interest. The last thing you want is an overly diluted glass of perfectly good whiskey sitting in front of you," Minnillo says of his creation.
He continues, "Any tenured bartender will tell you that they rarely make cocktails at home unless they are entertaining guests. And even then they don't always keep homemade syrups on hand. As far as the exchange of honey for another source of sugar, honey is an often overlooked sweetener that almost everyone has in their cupboard and can help open up flavors that other sugars don't always tend to.""
Old Fashioned
INGREDIENTS
2 ounces

Whiskey

1 bar spoon

Honey

2 dashes

Angostura Bitters

2 dashes

Orange Bitters
INSTRUCTIONS
Step one
Add all ingredients in an Old Fashioned glass.
Step two
Add a large ice cube and stir.
Step three
Garnish with an orange twist.
Recipe provided by Shae Minnillo