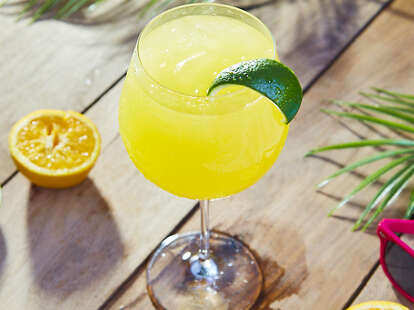 Marisa Chafetz / Supercall
Marisa Chafetz / Supercall
It's hard to find a Rum Punch that isn't sweet. But just because the party-ready beverage is juicy and fruity doesn't mean you can't balance out those sweet notes with flavors that are sour and even spicy. "Our Rum Punch is a perfect swirl of sweet, spice and tart," says Kevin Flannery, general manager and certified sommelier of Ocean Prime New York. "The Don Pancho rum and Ancho Reyes liqueur are balanced by the freshly squeezed juices to compose a flawless punch." Even though you could use store-bought bottled orange juice in a pinch, this punch truly shines when it's made with the freshest stuff possible.
Ocean Prime Rum Punch
INGREDIENTS
1.5 oz

Rum

.25 oz

Ancho Reyes

.25 oz

Apricot Liqueur

1 oz

orange juice

.5 oz

lime juice

.5 oz simple syrup
5 drops

Chocolate Bitters

lime twist
INSTRUCTIONS
Step one
Combine all ingredients—save for the garnish—in a shaker tin with pellet ice. Shake to mix.
Step two
Strain into a glass filled with ice and garnish with a lime twist.
Contributed by Kevin Flannery