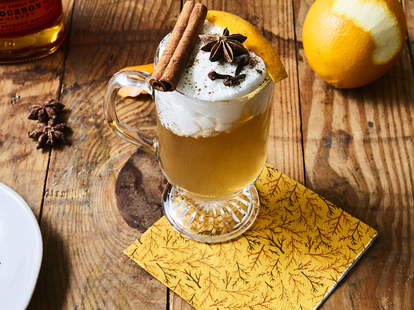 Marisa Chafetz / Supercall
"Who doesn't want a mink coat?" asks Rachel Sergi, head bartender at The Next Whiskey Bar at The Watergate Hotel in Washington, D.C. "It's warm, luxurious and sexy." The plush winter wear was the inspiration for the bar's luxe take on a Hot Toddy, which upgrades the classic with infused scotch, demerara syrup and a rich clementine espuma. Compass Box Orangerie, whisky infused with navalino oranges and cassia bark, adds dry fruity tones to the cocktail, while rye brings peppery heat. The two layer upon the dry tannic flavors of ceylon black tea and the hardy sweetness of the demerara sugar. The clementine espuma, essentially an extra silky orange meringue, lays like a velvet blanket on top, dotted with spices that give the warm cocktail its winter sensation.
INGREDIENTS
1.5 oz

Scotch

.5 oz

Rye

.5 oz

Black Tea

.75 oz Demerara syrup (2:1)

Allspice Berry

Clove

Star Anise Pod

Orange Twist

Cinnamon Sticks
INSTRUCTIONS
Step one
Warm a mug with hot water. Allow to sit while preparing the black tea in a separate mixing glass.
Step two
Add the spirits and demerara syrup to the black tea, and stir.
Step three
Discard hot water and add tea mixture to the glass.
Step four
Top with clementine espuma.
Step five
Arrange cinnamon stick, star anise, allspice, clove and orange on top in whatever combination you see fit.
Contributed by Rachel Sergi