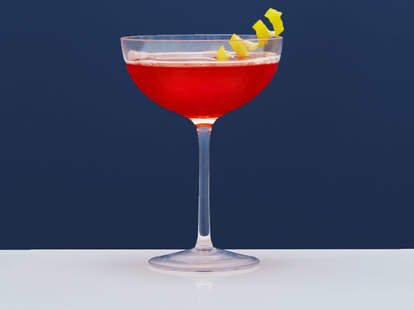 Matthew Kelly / Supercall
A riff on the Last Word, this modern classic was created by New York bartender Sam Ross. Mimicking the Last Word's elegant balance between sourness, bitterness and herbaceousness, the Paper Plane is one of Ross' greatest contributions to the cocktail canon. A mix of equal parts bourbon, Aperol, Amaro Nonino (a grappa-based digestif made in Friuli, Italy) and fresh lemon juice, the cocktail tastes like a tarter, bolder, more complex Manhattan. Best of all, with its vibrant sourness, this bourbon cocktail is sippable year round.
INGREDIENTS
0.75 oz

Bourbon

0.75 oz

Aperol

0.75 oz

Amaro Nonino

0.75 oz

Lemon Juice

Lemon twist, for garnish
INSTRUCTIONS
Step one
In a shaker tin with ice, add the bourbon, Aperol, amaro and fresh lemon juice. Shake.
Step three
Garnish with a lemon twist.
Contributed by Supercall