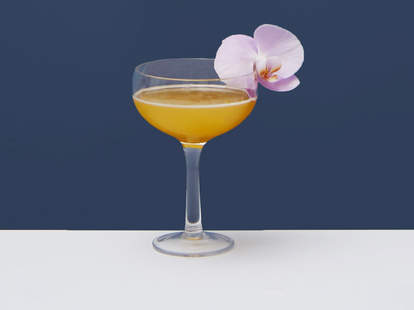 Matthew Kelly / Supercall
Made with equal parts gin, apricot brandy and orange juice, the Paradise Cocktail is almost vulgar to drink in its original form. It's an unbalanced, saccharine mess. In an effort to save the classic cocktail, we decided to tweak the recipe to make it as delicious as the name implies. Somewhere in between the version in the Savoy Cocktail Book and author David Wondrich's variation, this modernized take is a refreshing beach-tail that's perfect for summer imbibing. Just remember to use fresh squeezed orange juice instead of the concentrated stuff from the bottle—it makes a world of difference.
INGREDIENTS
2 oz

Gin

0.25 oz

Apricot Brandy

1 oz

orange juice

0.5 oz

Lemon Juice

Apricot Bitters (optional)

Orchid, for garnish
INSTRUCTIONS
Step one
Add all ingredients, sans the garnish, to a shaker tin with ice. Shake.
Step two
Using a Hawthorne strainer, strain the cocktail into a chilled coupe glass.
Step three
Garnish with an orchid.
Contributed by Supercall