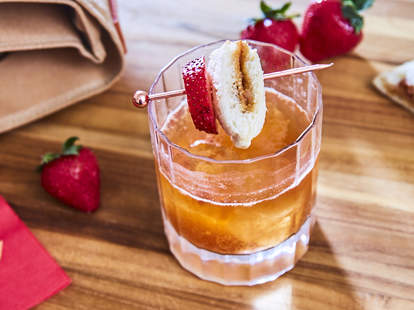 Marisa Chafetz / Supercall
Tim Weigel kept sneaking bites of his kids' Smucker's Peanut Butter and Jelly Uncrustables from the fridge and after a while, he thought the flavor profile would make for a good cocktail. As the chief mixologist for the Hakkasan Group in Las Vegas, he had the perfect opportunity to carry out his vision when Searsucker revamped its lineup of Old Fashioned cocktails at Caesars Palace. Easily the sweetest of the four variations on the menu, the PB&J Old Fashioned uses peanut-infused Maker's Mark as the base. (Don't worry, it's easier than it sounds. All you have to do is let a handful of chopped peanuts sit inside a bottle of bourbon for a few days.) The sweetness of the spirit is elevated with the addition of fassionola (a syrup often used in tiki cocktails), muddled strawberry, and orange bitters enhanced with strawberry tincture. "If you bartend at home and you know how to muddle and double-strain, the cocktail is pretty easy to make," says Weigel. And the garnish? You guessed it: an Uncrustable with a slice of strawberry.
INGREDIENTS
.5 oz Fassionola Syrup
1

Strawberry

2 dashes

strawberry-orange bitters

Smucker's Peanut Butter & Grape Jelly Uncrustable

Strawberry slice, for garnish
INSTRUCTIONS
Step one
Muddle the strawberry in a mixing glass.
Step two
Add bourbon, fassionola, bitters and ice.
Step three
Stir and double-strain over fresh ice in rocks glass.
Step four
Garnish with a quarter of an Uncrustable and strawberry slice.
Contributed by Tim Weigel