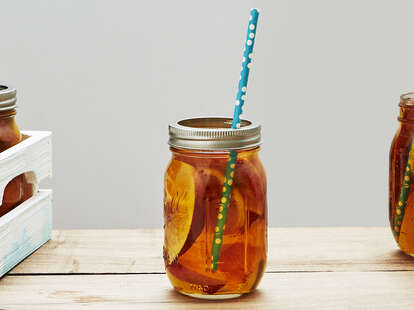 Matthew Kelly / Supercall
When it's hot outside there's nothing more delicious or refreshing than a frosty iced tea—except spiked iced tea. Boozed up with vodka and peach schnapps, this summertime sipper tastes like a grown up Snapple. Bonus: It's almost too easy to throw together. Made entirely in a Mason jar, it's like a Southern summer day in a glass.
Peaches and Tea Punch
INGREDIENTS
2 oz

Vodka

1 oz

Peach Schnapps

Lipton's Iced Tea, to top

Half of a fresh peach, sliced

2 slices of lemon
INSTRUCTIONS
Step one
Add vodka and peach schnapps to a Mason jar.
Step two
Top with iced tea.
Step three
Add the peach and lemon slices, and seal the jar. Shake to combine.
Step four
Refrigerate or put in a cooler with ice until ready to serve.
Contributed by Supercall