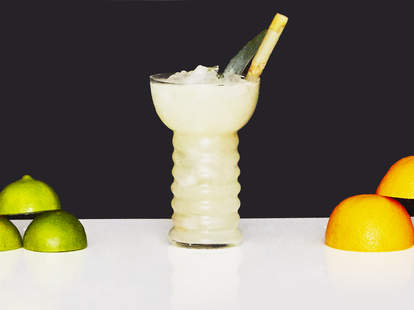 The Pearl Diver comes to us from one of the one of the founders of tiki, Don the Beachcomber, by way of Jeff "Beach Bum" Berry who revived both the vintage drink—a sort of tropical iced Hot Buttered Rum—and its signature, ribbed glassware. Like most tiki drinks, this is not a recipe you can simply throw together. Aside from the specialty glass, it also calls for Don's Gardenia Mix, a blend of whipped butter, sugar and spices, and three different rums. But we promise, it's worth the time and the effort.
INGREDIENTS
1.5 oz

gold rum

.75 oz

Demerara Rum

.5 oz

Jamaican Rum

.75 oz Don's Gardenia Mix
1 oz

Fresh Orange Juice

.75 oz

fresh lime juice

1 tsp Falernum

Banana Leaf, for garnish

.75 oz

Crushed Ice
INSTRUCTIONS
Step one
Add all ingredients except for the garnish to a blender, beginning with the Gardenia Mix, then blend for about 20 seconds.
Step two
Strain through a fine mesh strainer into a Pearl Diver glass (if you have one) or a tiki mug. Garnish with a banana or pineapple leaf.
Contributed by Supercall