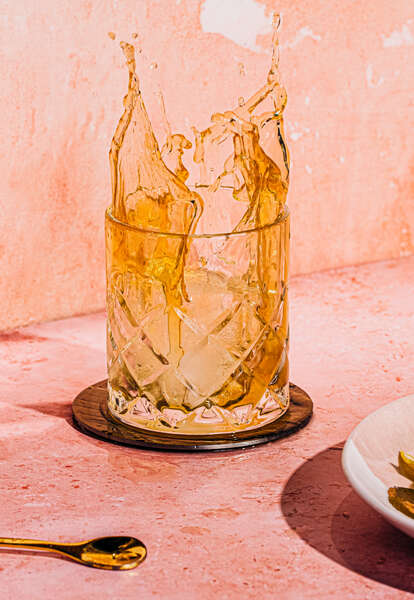 Photo by Cole Saladino for Thrillist. Photo Assistant: Mitchell Mylius. Food Stylist: Micah Morton with Big Leo. Food Stylist Assistant: Terrance Harvey.
In Jerry Thomas' Bartenders Guide, an "improved" cocktail is a simple cocktail in the traditional sense of the word (spirit, sugar, and water) that is improved with some added liqueur and/or absinthe, and garnished with an expressed lemon peel. The Improved Whiskey Cocktail is essentially an Old Fashioned with the addition of maraschino liqueur, a dash of Peychaud's bitters, and absinthe.
For a twist on the Improved Whiskey Cocktail, we tapped Shae Minnillo, a bartender at Manolito in New Orleans. "With the right banana liqueur, Irish whiskey is perfect for this almost tiki version of an Old Fashioned. Simple tweaks are always within reach with the right modifier. You can easily revamp or brighten a classic by employing flavors you likely already have and maybe don't know what to do with. Here, adding banana liqueur to an Improved Whiskey Cocktail will prove to bolster and round out some of the flavor profile of the base spirit," says Minnillo of his creation.
Peel Slowly and See
INGREDIENTS
2 ounces

Whiskey

½ ounce

Creme Du Banane

1 barspoon Demerara Syrup
1 dash

Angostura Bitters

1 dash

Peychaud's Bitters

1 dash

Absinthe

1

Lemon Peel
INSTRUCTIONS
Step one
Combine all ingredients in a rocks glass.
Step two
Add ice and gently stir.
Step three
Squeeze the oils of a large swath of lemon peel over the cocktail and insert in the glass.
Recipe provided by Shae Minnillo