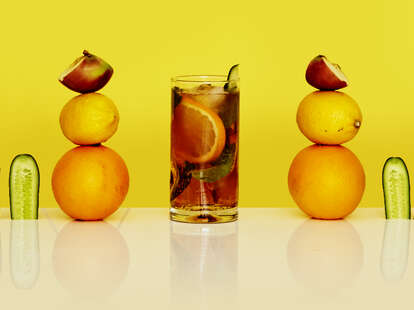 Bright, herbaceous, summery and garnished to the nines, the Pimm's Cup wouldn't exist without James Pimm, the owner of a London oyster bar who created Pimm's liqueur in 1823. Though he originally marketed it as a health tonic, the cocktailing world quickly caught on to its true potential and the Pimm's Cup was born. Now, the spritzy drink is most commonly associated with the Wimbledon tennis tournament, but it can (and should) be drunk at anytime—no sporting event needed. Traditional British recipes call for lemon-lime soda, but ginger beer works equally well if you prefer a spicier rendition. Whichever mixer you choose, make sure to garnish the cocktail lavishly.
Pimm's Cup
INGREDIENTS
1.5 oz

Pimm's No. 1

.25 oz

fresh lemon juice

Cucumber, for garnish

Mint leaves, for garnish

Strawberry, lemon and orange slices, for garnish (optional)
INSTRUCTIONS
Step one
Fill a highball glass with ice and your garnishes.
Step two
Build the cocktail in the glass, starting with the Pimm's and the lemon juice, then top with the lemon-lime soda or ginger beer of your choice.
Contributed by Supercall
Mix It Up!
If you're making a pitcher for a crowd at Pimm's O'Clock, combine 200 ml of Pimm's with 600 ml of lemon-lime soda or ginger beer. Give it a
stir
and then add mint, cucumber and fruit. To serve, pour mixture in highball glasses with ice and top with extra garnishes.