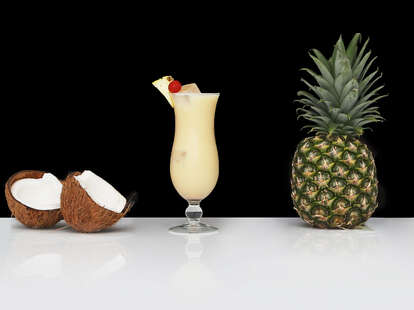 Regardless of your feelings about getting caught in the rain, we hope you have room in your heart for Puerto Rico's national drink, the trusty piña colada. This is a drink (and sometimes a cheese) with the power to make any day a beach vacation, even in the middle of February. There are conflicting reports as to when and where the "first" Piña Colada was invented, some involving pirates, others dueling Puerto Rican bartenders. For our part, we feel like it would be hard not to discover the piña colada if you lived on a tropical island, just by sheer probability, given all the rum, coconut, and pineapple at your disposal.
Piña Colada
INGREDIENTS
2.5 oz

Rum

3 oz

Coco Lopez

6 oz

Pineapple Juice

1/2 Cup

Crushed Ice

pineapple

Pineapple
INSTRUCTIONS
Step one
Pour rum, Coco Lopez and pineapple juice into a blender with crushed ice.
Step three
Garnish with a pineapple wedge.
Contributed by Supercall